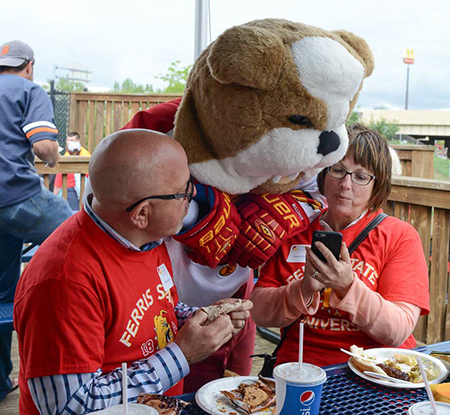 A concentration of Ferris State University alumni in northeastern Wisconsin have the opportunity to network, celebrate their alma mater and enjoy Midwest League baseball, as an Alumni Association event has been scheduled at Fox Cities Stadium in Appleton, Wisconsin, Saturday, July 22.
Director of Alumni Relations Brandi Behrenwald said Ferris is pleased to partner with the Wisconsin Timber Rattlers, who will host the West Michigan Whitecaps in a single game that begins at 6:35 p.m., Central Daylight Time. There will be a picnic dinner for guests who register for the event, in the covered deck along the third base line, beginning at 5 p.m., and the package includes beverage tickets and bleacher seating for the contest.
"Wisconsin is one of the more populous areas for Ferris, in terms of active alumni, and we are happy to sponsor this event in their area," Behrenwald said. "We will have staff in this area prior to this activity, catching up with graduates, whom we will feature in our Bulldog for Life video series."
Michigan-based alumni events include an annual golf outing, attending a NASCAR event at Michigan International Speedway and, in the fall, visiting Mackinac Island. Behrenwald said the Alumni Relations Office is pleased to arrange activities in neighboring states and other areas where Ferris alumni have shown an interest in gathering and networking.
"We are branching out with activities, contacting first-time alumni who show an interest in keeping up with the university and offering them a chance to meet and do something fun in their area," Behrenwald said. "We know there are dozens of active alumni in eastern Wisconsin, and while it would be great to see them all attend, we will be very happy to spend time with them and any current students who join us at this game."
One of the most active Ferris Alumni groups is based in Denver, according to Behrenwald.
"We have had watch parties, there, for Ferris sporting events, as well as gatherings to enjoy hockey alumni participating in Colorado Avalanche games," Behrenwald said. "We always seek to offer a chance to enjoy the company of other Ferris graduates and provide a chance to develop networking opportunities, as our 'Mile High Bulldogs' now enjoy in Denver."


PHOTO CAPTION: Ferris State University alumni, students and supporters will enjoy a Midwest League baseball game on Saturday, July 22, at Fox Cities Stadium, in Appleton, Wisconsin.