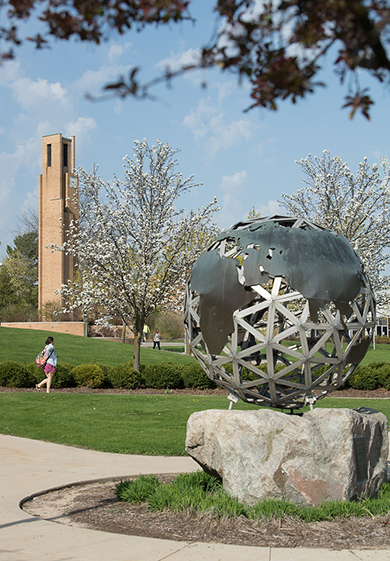 A group of five Ferris State University students seeking degrees in Risk Management and Insurance and in Actuarial Science recently completed the "Michigan Insurance Employers Survey," a measurement of career prospects in the insurance labor market, statewide.
All students are Gamma Iota Sigma members, which is the international fraternity for both study disciplines. Risk Management and Insurance Coordinator David Brown, co-advisor of the Upsilon chapter of Gamma Iota Sigma, said RMI students Faith Austin, of Marquette, and James Freid, of Lansing, were joined by AS students Alicia Bosman, of Holland; Laura Hureski, of Livonia; and Morgan Wiard, of Sturgis, in formulating objectives for the online survey, and analyzing the responses. During the 2017 annual convention for the Michigan Association of Insurance Agents, the survey team solicited potential survey respondents, by distributing letters in the exhibit hall, which provided the URL to the survey.
"I am very proud of the extra time and effort devoted to this project by the MIES student team, which was over and above their challenging academic loads," Brown said. "The students on the MIES team exhibited a passion to understand some of the dynamics of the Michigan insurance labor market, which many of them will be entering in the very near future."
Responses were collected from the insurance-related firms, during February and March of 2017, and presented a number of key findings:
Michigan insurance employment headcount was up a little more than 5 percent in the past year and is projected to grow again in the year ahead.
Service providers, on average, are significantly younger when compared to the rest of the Michigan Insurance industry.
The majority of jobs available in the insurance industry are in claims, underwriting or information technology.
The top five attributes a candidate needs to possess is an ability to multi-task, being a self-starter, versatility, committed to growth, and team-oriented.
The three main challenges in hiring new employees are finding candidates with business acumen, competition with other firms, and allocating sufficient resources to bring candidates on board.
"The survey findings were not particularly surprising given the widespread and well-publicized concerns for the risk and insurance industry's looming talent crisis," Brown said. "I think the results confirm that there are indeed many opportunities for risk management and insurance careers here in Michigan, and that the turnover is low, all of which suggests a stable and growing industry."
The report indicates that, when projected hiring in the next 12 months by service providers, insurance companies, and brokers and agents statewide is totaled, it points to continued growth in positions across the industry. When adjusted for the previous year's separation rate, the data suggests real employment growth of 4 percent in the coming 12 months, which represents a 9.4-percent increase in headcount, over a two-year period.
Those surveyed were encouraged to suggest areas that could be researched in future iterations of the study, and an estimation on those professionals approaching retirement within five years was noted, along with, where applicable, the concentration of employees' work that was focused on personal lines, versus commercial lines insurance.
Brown added that the MIES team concept might be continued, using Ferris/Gamma Iota Sigma students on an annual, or biennial basis, as an opportunity to explore new areas related to the risk and insurance industry, and identify any noteworthy trends, based on responses. The full report may be found online.

PHOTO CAPTION: A group of Ferris State University students in Risk Management and Insurance, as well as Actuarial Science recently completed a survey assessing employment prospects in Michigan's insurance industry. This work is a collaborative effort for programs in the university's College of Business, and the College of Arts, Sciences and Education, respectively.