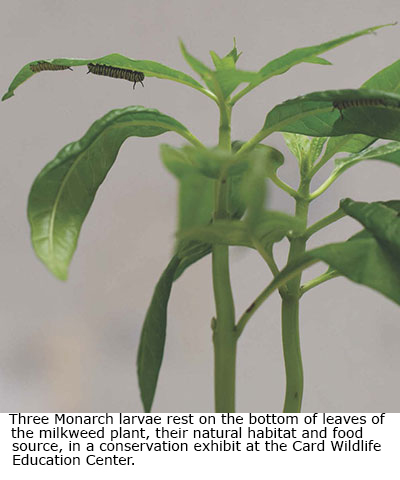 The Card Wildlife Education Center leads community in major conservation effort
"I wouldn't want to deprive other young people in Michigan of that same opportunity," said Big Rapids Mayor Mark Warba, fondly recalling childhood memories spent outside, catching butterflies during summer months.
Warba, like many others, has recently become aware of the significant decline in the Monarch butterfly population, which has decreased 90 percent throughout the last 15 years and hit an all-time low in 2015, according to the Save Our Monarchs Foundation (SOM). Aside from the enjoyment offered by seeing a Monarch butterfly, the disappearance of these pollinators is a much more critical issue, specifically in regards to the impact on the food web in which all animal life depends on.
"Statistics indicate that 'more than one of every three bites of food we eat or beverages we drink are directly made possible because of pollinators,'" said Carrie Weis, Ferris State University's Card Wildlife Education Center and Fine Art Gallery director. "Pollinators are not just important to our environment but are critical to our environment for numerous reasons, from ensuring fruit and vegetable plants are able to produce to helping oxygenate our environment."
Led by Weis and the Card Center, numerous community groups and the city of Big Rapids have taken notice of this important issue and are working to participate in the revival of the Monarch butterfly population.
As part of this effort, Warba took the National Wildlife Federation's Mayors' Monarch Pledge, which encourages public officials around the country to assist with conservation efforts by taking action in their municipalities. Specifically, Big Rapids committed to nine efforts that will be implemented within a year of the pledge. Some include raising awareness about the decline of the Monarch species; planting a Monarch-friendly demonstration garden; launching a program to plant native milkweeds, the monarchs' exclusive source of food; and integrating Monarch butterfly conservation into the city's Park Master Plan and Sustainability Plan, among others.
"You know, when you see something as unique — the migration that they make, the story that surrounds them — something like a Monarch butterfly threatened because of habitat and other issues where you can take some relatively simple and straightforward steps, like planting milkweed — and don't treat it as a weed or something you want to get rid of, but instead try to protect and promote it so you have things like butterflies — it's too easy not to do," said Warba. "And the risk of failing to do it certainly doesn't outweigh all of the benefits that we can derive if we do something straightforward."
Groups involved in the initiative include SOM, TransCanada Corporation, the Muskegon River Watershed, the Big Rapids Garden Club, Pheasants Forever, the Bulldog Sustainability Alliance and Outdoor Club registered student organizations, as well as many scout troops and community schools.
The Card Center is acting as a hub for these groups and organizations, providing an educational space for outreach and change within the community, according to Weis. The center has provided materials to three school systems that will allow more than 250 students to begin growing Milkweed in class, as well as butterfly kits for students to observe the transformation of a caterpillar to a butterfly.
Additionally, the Card Center has a temporary "Butterfly Flyways" exhibit designed to teach visitors about the plight of the Monarch species and has also developed a badge program for scouts to earn their conservation badges.
"I find that learning about a topic is important, but having the opportunity to take action gives people a sense of accomplishment and purpose," said Weis." I think there's a beautiful symbiosis between the university and the community that happens when we provide this type of program and opportunity. Numerous groups and demographics come together, each providing their audience, their expertise, their assistance. We come together to learn, to grow, to share and to experience something new and relevant; we learn how to participate in making our spaces better. I have witnessed the strengthening of relationships between the community and the university through these activities, and I think those relationships are beyond measure."
In addition to the materials provided to the community schools, representatives from SOM will visit Big Rapids to provide in-class presentations and activities, allowing the students to participate in growing milkweed, caterpillar fostering and butterfly release, and a large-scale planting of 1,000 milkweed plugs.
"When the iconic Monarch butterfly population reached an all-time low in 2015, a cooperative effort between the United States, Canada and Mexico was launched to help address the problem," said Randall Gilbert, program director of SOM. "One of the primary goals of this effort is to plant 1.5 billion new milkweed stems throughout the Monarchs migratory flyway, which encompasses most of the U.S., east of the Rocky Mountains. Milkweed is the only plant that the Monarch can breed on, and its scarcity in the flyway spurred SOM to start a milkweed seed distribution campaign that later developed into a large-scale habitat restoration effort involving public and private lands.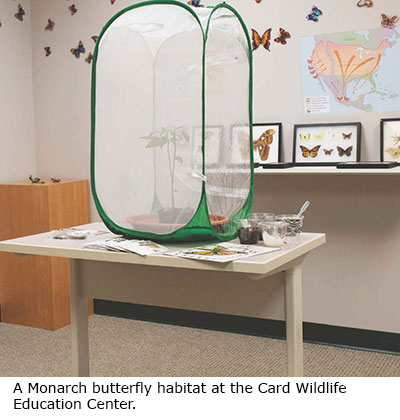 "Given that mostly exotic turf grasses for lawns is the biggest crop in America — and that most yards don't support much, if any, native wildlife, including butterflies — we are working to help change the ethos and aesthetics of how Americans maintain their own land. The idea is simple: decrease mowing, don't spray insecticides or herbicides, and plant milkweed and native flowers everywhere possible because these bugs need our help," he added.
This initiative began in Big Rapids after Weis had a conversation with an environmental biologist at TransCanada who had mentioned that SOM was looking for regions to increase pollinator habitats throughout the U.S., and had identified property on the TransCanada's pipeline, near Big Rapids, as being a highly desirable area to plant milkweed. From there, the project took off.
"For some, it might seem inconsequential or simple, but if we don't get involved and do it, who is it left to?" said Warba. "You feel a certain responsibility, and out of a lot of the things a city gets involved with and does, this is among a lot of other good things; this is a good thing."