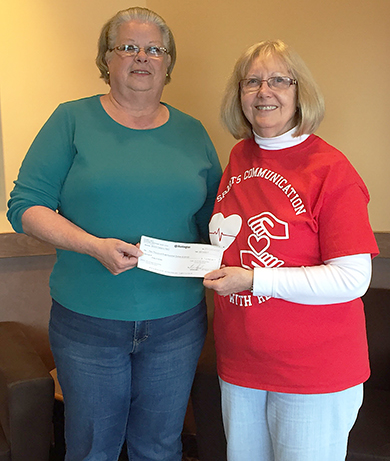 Proceeds from an April 18 charity basketball game, the 12th annual "Heart to Heart, Hand to Hand" event, were recently presented to the Area 5 Special Olympics program, by the Sports Communication registered student organization at Ferris State University.
Event organizers, in collaboration with the Ferris Athletics Department, raised $2,500, according to Sports Communication Program Coordinator Sandy Alspach.
"Our major sponsor, Dean Transportation, has continued to offer a match to what our students raise through this event," Alspach said. "The donation figure was doubled this year, and we are very thankful to work with such a fine community partner."
Special Olympics Area 5 Director Pat Rosales said such events and contributions are crucial to the ability to provide athletes the opportunity to compete and grow.
"Our whole program is funded by donations. So, gifts from this RSO and other groups are vital to our organization," Rosales said. "We will be heading next to the Special Olympics Summer Games in Mount Pleasant, Thursday, June 1 through Saturday, June 3. That means 60 athletes and chaperons will have the chance to compete in four sports."
Rosales said there are 90 athletes in Special Olympics Area 5, which includes Mecosta and Osceola counties.
Alspach said beyond the worthwhile nature of supporting the Special Olympians' competition in Winter Games and Summer Games, at the state level, members of the Sports Communication RSO, along with Ferris' men's and women's basketball team members, greatly enjoy their interaction with the athletes they support.
"Our students get important event marketing and game management exposure through this event," Alspach said. "Moreover, we are fans. Our students are making friendships and important connections with the athletes. Events, such as this, illustrate the importance, and rewards that come from community involvement."


PHOTO CAPTION: Michigan Special Olympics Area 5 director Pat Rosales (left) received a $2,500 check from Ferris State University Sports Communication program coordinator Sandy Alspach (right) on Friday, May 19. The funds were raised through the 12th annual "Heart to Heart, Hand to Hand" charity basketball game, played at Ferris' Jim Wink Arena.