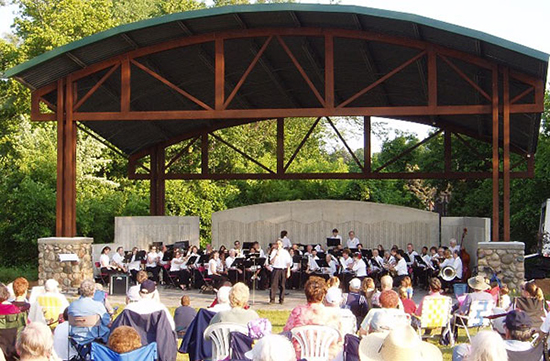 PHOTO CAPTION: The Ferris Community Summer Band, a collaboration of performers from the campus and community, have begun their 2017 schedule of concerts. The series is presented on Wednesday evenings, and typically begins with a performance at The Old Jail, in Big Rapids.

Musicians from a variety of backgrounds have begun their annual collaboration in Big Rapids, as the Ferris State University/Community Summer Band entered its 52nd season with a June 7 concert at The Old Jail.
Scott Cohen, the director of instrumental concert ensembles for Ferris State University, said their 2017 schedule includes six concerts, all of which will be
presented in Mecosta County, with the majority of performances hosted at the Big Rapids Band Shell, along Mitchell Creek. The series continues on Wednesday, June 21 at the Big Rapids Band Shell and Thursday, June 22 at Spectrum Health Big Rapids Hospital as part of the Auxiliary Community Block Party at Centennial Park. The concert schedule continues on Wednesday, June 28 and Wednesday, July 5 – both at the Big Rapids Band Shell.
"On Wednesday, June 21, we will perform in Centennial Park, for Spectrum Health-Big Rapids Hospital, continuing a relationship that has been going on since before my time at Ferris," Cohen said. "It's a nice tradition, and the Community Block Party and Health Fair should be a fun activity. Stage M performers will offer some previews of their summer performance, 'South Pacific,' and we are supporting their production by including some selections from the musical in our concerts."
Cohen added that musicians would be expected to participate in practice sessions, which are scheduled for Monday, June 26 and Tuesday, July 3, from 7 to 9 p.m., in Room 108 of Ferris' University Center, prior to those performances in the remainder of the schedule.
"Many students, over the years, have made a lifelong commitment to performing by taking part in our "Music for Life" program," Cohen said. "It's a wonderful engagement opportunity, both for those students, and the community."
All community summer band concerts begin at 7 p.m., and are free to the public. The alternate rain location is Big Rapids First United Methodist Church.
"Following the conclusion of our concert schedule, a variety of other performers will entertain at the Band Shell on Wednesday evenings, into mid-August," Cohen said. "It is great that we can work collaboratively with the Big Rapids community, and support a long-standing tradition."
Anyone with questions can contact Cohen at (231) 591-2484 or [email protected].