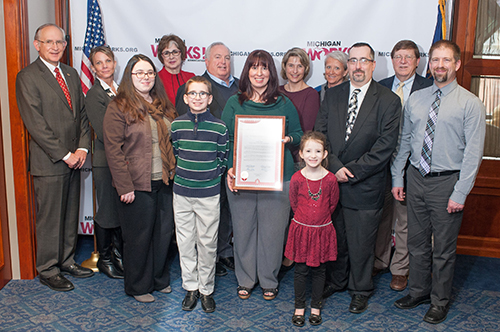 Leora Bain's desires to develop, manage and operate a nonprofit organization, with a mission to empower adults in foster care programs, may sound like a hopeful notion, at best. But, the graduate of Ferris State University's Bachelor of Science in Nursing program has a personal history of succeeding, regardless of difficult circumstances, which was recently recognized by the Michigan Works! Association.
The Big Rapids resident was welcomed to receive the Impact Award, from the nonprofit organization, at a ceremony in Lansing that was attended by Ferris President David Eisler. Bain, who graduated with a Bachelor of Science in Nursing, completed her coursework during the Summer 2015 semester. She credits the Michigan Works! West Central office, in Big Rapids, along and College of Health Professions faculty, with full support of her effort to reach her educational goals.
"I had earned credentials as a Certified Nurse Assistant, after beginning my education at a for-profit institution," Bain said. "My contacts at what is now known as Spectrum Health-Big Rapids Hospital had pushed me to pursue the BSN degree at Ferris."
Bain had a history of resolving personal issues, after a difficult life as a child in the foster care system, followed by an abusive marriage as a teen mother. She took part in an Ingham County Circuit Court program to regain custody of her daughter after investigations of her ex-husband and his spouse began. Bain was the first voluntary enrollee to successfully complete that process.
"I always had a goal in mind of becoming a nurse, which was not met with a lot of support from those who knew about my circumstances," Bain said. "When I got a goal in my mind, and the drive to do it, I just did it. My life experiences had limited my self-esteem for some time, but once I believed I was capable, I continued to press on toward my goals."
Bain was receiving assistance from the Michigan Works! program in developing formative skills through career counseling which continued after she relocated to Big Rapids to begin studies at Ferris.
"I was able to test out of some formative classes and waive another basic class when I began studies in the fall of 2010," she said. "Michigan Works! was able to help me stay positive despite more challenges for our family during the time I was a Ferris student."
Bain made the dean's list in six semesters, while she moved toward her BSN degree, and credits Michigan Works! Career Development Specialist Greg Wickings with unfailing support during that period.
"Greg helped me through many difficult points to stay focused on my degree," Bain said. "I am so thankful to a friend, Linda Morris, who had pointed me to seek assistance from Michigan Works! at a crucial point in my life. Their support was a big part of my success."
It is definitely part of my job, but I understand, and am happy to help people in need, even if it is being their 'sounding board,'" Wickings said.
Bain said her current duties at Pine Rest Christian Mental Health Services, in Grand Rapids, are an important base of experience, a prelude to her overall goal of establishing a nonprofit.
"It's amazing, fulfilling and it has me looking forward to my future in care-giving," Bain said. "I frequently work with patients who have suffered with many of the same things I dealt with. I look at their mental health or substance abuse issues and realize they are a person with goals and desires who didn't plan these circumstances. I have to understand that not everyone has made their commitment, to drive toward their own goals."
Bain plans to return to Ferris and pursue a Master of Science in Nursing and begin the administrative phase of her career.
"The patients I have served have been a blessing as I was able to meet those people where they are," Bain said. "That can be tough, especially when they return to their homes, but are back for care and coping skills. I have to remind them that they are back with us to be helped and that is important for them, as a person."
What remains, beyond post-graduate education, is Bain's ultimate goal of leading a nonprofit.
"I am looking forward to a future as an administrator," Bain said. "I would hope to seek community support for a nonprofit organization which would offer transitional housing assistance to foster care youth, after they 'age out' of the program, so that they might live more independent lives. I'd like to do that in Big Rapids."
Her Michigan Works! West Central supporters continue to watch her progress with interest.
"Leora's an extraordinary lady, who worked very hard to get where she is," Wickings said. "She deserves to achieve and enjoy all that she intends for herself and her family, going forward."

PHOTO CAPTION: Leora Bain, (Center, holding award) a 2015 graduate of Ferris State University's College of Health Professions, was honored by the Michigan Works! association, receiving their Impact Award. Bain overcame a number of personal struggles to complete her degree, and hopes, one day to be the head of a nonprofit organization. Ferris State University President David Eisler is pictured at the left.