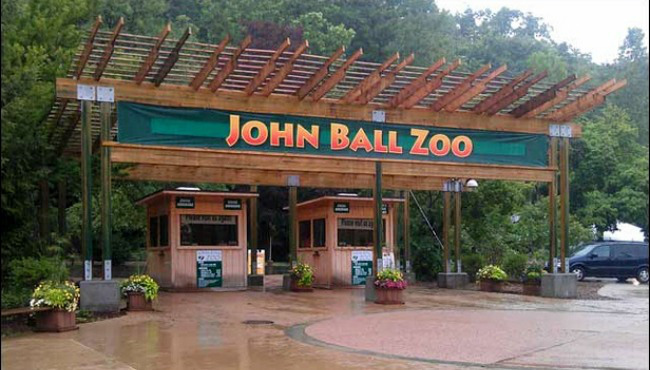 A variety of sights, sounds and activities will be available to Ferris State University friends and supporters, as the Alumni Association will host an event Sunday, July 30 at John Ball Zoological Gardens, in Grand Rapids.
Director of Alumni Relations Brandi Behrenwald said they anticipate an enjoyable midday gathering for families, couples or individuals, as their itinerary will run from 11 a.m. to 2 p.m.
"We have offered many events in Grand Rapids over the years, but this is our first collaboration with John Ball Zoo," Behrenwald said. "We had great success entertaining our alumni and friends in 2014 at the Detroit Zoo, and hope our West Michigan Bulldogs are excited about participating in this Summer Series event."
John Ball Zoo exhibits include Crawford Tigers of the Realm, Mokomboso Valley, which, at 3.5 acres, is one of the largest chimpanzee exhibits in the country, and a newly-renovated observation area for grizzly bears in the North America section of the zoo.
The zoo will open at 9 a.m. that day and closes at 6 p.m. The Alumni Association is offering a cookout at the "Pond Pavilion" at the zoo and a ticket to enter the facility. Behrenwald said the cost for a children 12 years of age or under is $15, and adult tickets will be $20 for this event.
"We will also have a special gift for all our guests that day, and we look forward to offering a chance to network, relax and enjoy a great regional zoo," Behrenwald said. "Anyone interested in attending can register online, and any questions can be directed to the Alumni Relations office, at (231) 591-2345."
Other major events for Ferris Alumni coming up this year include the Fall Reunion, Friday, Sept. 29 in Ferris' University Center, a Mackinac Island Alumni and Friends Weekend Friday, Oct. 13 to Sunday, Oct. 15, and an Upper Peninsula Alumni and Friends Social in Marquette, on Saturday, Oct. 14.


PHOTO CAPTION: Alumni and friends of Ferris State University are welcome the wildlife and scenery of John Ball Zoological Gardens, in Grand Rapids on Sunday, July 30. The Alumni Association is planning an event with tickets to the zoo, and a cookout in the Pond Pavilion (Photo courtesy of John Ball Zoo)