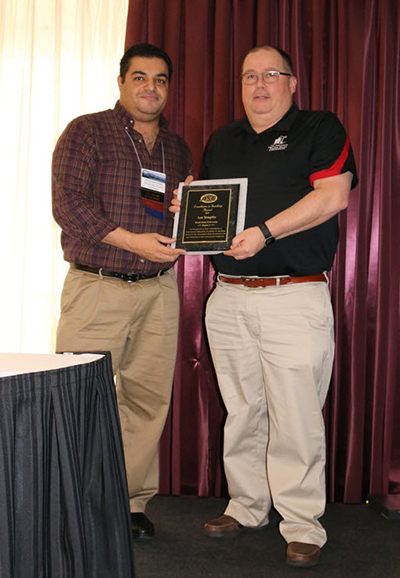 A Ferris State University associate professor of Construction Technology and Management was recently presented an Excellence in Teaching Award by the Associated Schools of Construction, at its 53rd National International Conference, in Seattle, Washington.
Lee Templin was the sole nominee at the ASC's Fall Conference and Competition for Region III, which was held in Downers Grove, Illinois. He has been a member of Ferris' School of Built Environment faculty for 21 years, and his nomination was based on personal involvement with the association's regional conference and serving as a coach for the university's Commercial Construction team.
"I was surprised to be honored, as it is really just about working for the students," Templin said. "My work in an advisory capacity is a practical method of giving our students career experiences."
Templin said Ferris' teams have won a number of awards in the design-build and other categories in previous Region III competitions, and there have been faculty field trips coordinated with Walsh Construction's Chicago office, as a number of Ferris CTM alumni are employed there. Templin developed and continues coordination of the department's annual golf tournament, which was organized to help fund student scholarships and activities.
"That event has served as a great fundraising opportunity to support our students, over the last 18 years," Templin said.


PHOTO CAPTION: College of Engineering Technology Associate Professor Lee Templin has been honored with a teaching excellence award by the Associated Schools of Construction.