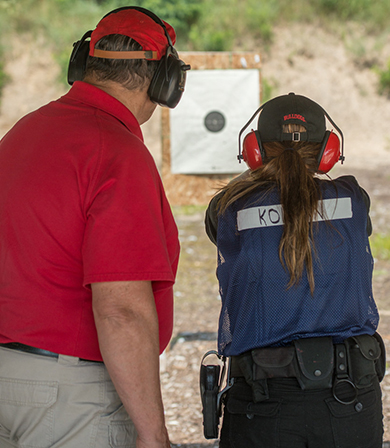 Graduates of Ferris State University's Criminal Justice program, particularly those who have completed the Law Enforcement Academy, are finding an interested and willing job market, according to a departmental survey.
Criminal Justice Professor and LEA Coordinator Cecil Queen said the study verified that over the last five years, 95 percent of those completing academy training have found employment in law enforcement.
"Details on our students working in Michigan were easily acquired, thanks to a database managed by the state of Michigan," Queen said. "We included all those students who were employed as officers or deputies during the five-year period that we studied. It was a bit more work to confirm the results for students who began their careers out of state."
Queen said the law enforcement community, both in Michigan and the Midwest, are aware of the quality of Ferris' Criminal Justice and LEA graduates.
"We believe we are succeeding in providing the learning and opportunity for our students to get into and succeed in the field," Queen said. "There were 20 requests from various departments to visit the LEA and recruit our students in the last year. There were a number of departments who came to the academy in the spring semester, asking for 20 to 30 minutes to talk about what they could offer our students."
Queen said they determined dozens of police forces and sheriff's departments were hiring statewide, based on inquiries directed to Ferris' Criminal Justice office. He added that as many as 75 departments statewide would be adding officers in the near future.
"We are pleased that, for the 41 students in the Class of 2017, 23 of them had confirmed job offers as they completed their training on campus," Queen said. "Another seven were prospects to join the Grand Rapids Police Department academy process. That is a very good year for any academy."
Several students, who were proceeding toward graduation from Ferris in Spring 2018 decided to pursue opportunities with the Michigan State Police, which requires recruits to complete training in their academy in the Lansing area. Queen said that even with this development, he anticipates the demand for their students will continue to be very brisk.
Students who earn their Bachelor of Science in Criminal Justice, at Ferris, who then qualify for Michigan Commission on Law Enforcement Standards (MCOLES) licensing, can, as Queen said, "write their own ticket" with regard to finding employment in the industry.
"Because of our training, various law enforcement operations, such as Sheriff's departments and municipal police agencies are spared having to put these recruits through a 16-to-18 week academy process," Queen said. "We have also determined that agencies from out of state had a hiring pulse 20 to 25 years ago, so they have a great need at this time for our very capable recruits."
Ferris' Criminal Justice program and LEA training was established in the 1970s, and Queen said the long standing of their programs will make their graduates attractive to departments in and out of the state of Michigan.
"There are more open positions for offices than the number of recruits available," Queen said. "Some other states may be losing criminal justice students, as public opinions regarding law enforcement are influenced by coverage in the media. We will continue our efforts to offer quality training, based on the program's core values of Courage, Commitment, Honor, Character and Pursuit of Excellence."


PHOTO CAPTION: Ferris State University Criminal Justice students are highly marketable upon graduation from the Law Enforcement Academy. A departmental survey showed good news for these Ferris alumni in the job market.