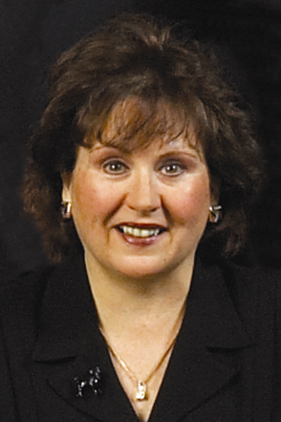 A College of Business professor, with more than a quarter century of promoting excellence as a member of the Ferris State University faculty, is prepared to offer greater involvement and assistance, as Susan K. Jones has been appointed to The Ferris Foundation's Board of Directors.
Executive Director Carla Miller said Jones joined alumnus Luke Wyckoff, alumnus and Welding Engineering Technology professor Kenneth Kuk, and alumnus Andrew Kalinowski as new appointees to The Ferris Foundation Board, as confirmed by the university's Board of Trustees on Friday, May 5.
"We are very excited to have her join us, as she offers a global perspective to Ferris, and its mission," Miller said. "Susan has an outstanding professional background and a great passion for the university. We will greatly benefit, as an organization, from her skills and creativity."
As a professor, Jones was credited with creating the world's first online direct marketing class for Ferris, which was made available for the Spring semester in 1998. She has developed and facilitated three 100-percent online certificate programs, in Business-to-Business Marketing, Direct Marketing and Digital Marketing, and is facilitator for the wholly online Digital Marketing minor. Jones, who earned her bachelor's and master's degrees from Northwestern University, is currently teaching at John Cabot University in Rome, Italy, a Ferris partner school. She called her election and appointment to The Ferris Foundation board "a distinct honor."
"I look forward to supporting this fine organization and contributing my time and talents – especially in the area of scholarships and grants," said Jones, a professor of Marketing. "As a Ferris professor for the past 27 years, I appreciate this chance to give back to a school that provides opportunity for so many thousands of students from Michigan and beyond."
These recent appointments mean that more than 30 active and emeriti members of the board of directors are offering their assistance in support of The Ferris Foundation.


PHOTO CAPTION: Susan K. Jones, a professor of Marketing at Ferris State University, is among the most recent appointments to the Board of Directors of The Ferris Foundation. Jones, an innovator in online instruction at Ferris, has been a faculty member for 27 years.