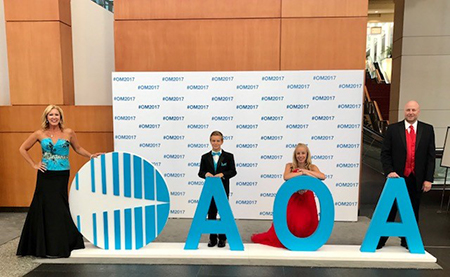 A Ferris State University Michigan College of Optometry alumna is continuing her progression in leadership of the American Optometric Association.
Dr. Barbara Horn, a 1998 MCO graduate, was sworn in as vice president of the AOA on June 24, in Washington, DC, as part of the association's annual "Optometry's Meeting."
Horn has been an AOA board member since June 2011, and had been named the AOA's Young Optometrist of the Year, in 2006. She had been AOA secretary and treasurer, with duties that present around 100 days of travel per year, on behalf of the association. As vice president, she will serve as AOA's speaker of the house pro-tem and have committee and association involvement with southeastern association affiliates, as well as representing the AOA board at two colleges of optometry.
"It is an honor to serve this association, the only association that advocates for our patients and our profession," Horn said. "I look forward to continuing to serve, to protect and to advance our profession. I ask all ODs to join in our mission to move forward together. We are strongest together."
Horn was also appointed to The Ferris Foundation's Board of Directors, in June 2014. The Ferris Foundation Executive Director Carla Miller said Barbara's involvement in Foundation initiatives is valued as she also represents the university and her profession on the national level.
"Barb is a great ambassador for the Michigan College of Optometry, Ferris State University and the optometric profession as a whole," Miller said." She brings great enthusiasm and passion to higher education, in general terms, while serving as a champion for her peers and their collective practice."
Horn is a full-time optometric physician at Vaught Eye Associates in Conway, South Carolina. She resides in Myrtle Beach with her husband, Dr. Mike Weisgerber, a 1992 alumnus of MCO, and their two children, Brooke and Mick.


PHOTO CAPTION: Dr. Barbara Horn, a 1998 graduate of the Michigan College of Optometry at Ferris State University, is pictured with her son Mick, daughter Brooke and husband, Dr. Mike Weisgerber, a 1992 MCO alumnus. Horn was elected vice president of the American Optometric Association on June 24, as she begins her seventh year on the AOA board.