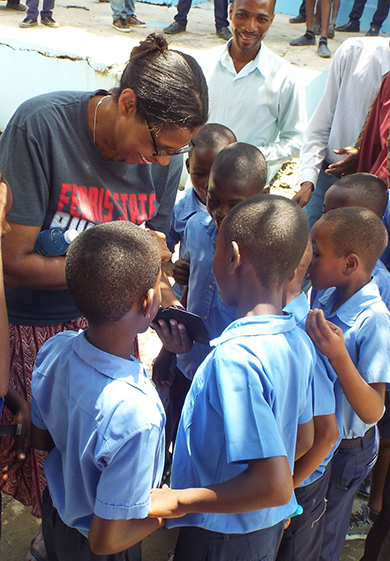 The first presentation of an experimental Study Abroad course is complete, with Ferris State University students and faculty expressing great satisfaction with Social Work 390, International Engagement in Haiti, offered by that College of Arts, Sciences and Education department.
Assistant Professor Rita Walters said eight students, and Social Work Associate Professor Dawn Fox, joined her on a 10-day exploration of Haitian culture, education, health care and history, June 9-18.
"We brought in guest speakers, prior to our starting the Study Abroad experience, so our participants would have an understanding of what they would find in Jacmel and other areas of Haiti," Walters said. "About the only thing we hope to change is the timing of our visit, as by touring this region in mid-June, we dealt with some very hot days."
Walters worked with Unique Helping Hands International, a nonprofit organization based in Florida, to arrange their tour of health care and government facilities, as well as parochial schools and a mission house operated by the Daughters of Mary. Students also toured a Haitian university and completed approximately 20 hours of direct service learning with school children.
"A final report is being developed, which will recommend continuing with the second year of this experimental course," Walters said. "We have great hopes that the Academic Senate will approve SWCK 390 becoming a Study Abroad course."
Taylor Sheeley, one of the eight students who traveled with Walters to Haiti, is entering her final semester before graduating from the Social Work program. She described her Study Abroad experience as "life-changing."
"I am struck by the kindness of the people and their thankfulness for everything we could offer or do for them," Sheeley said. "It makes me consider what I can do, for the good of others, with everything that I have."
Sheeley, of Fountain, Michigan, said she and other classmates were well informed about what Haiti would present in terms of socio-economic conditions, but they had not anticipated the natural beauty they discovered in the country's rural areas.
"As we went around, we were struck by the mountains that separated these towns," Sheeley said. "They were certainly different than the climbing hills around West Michigan. Since we were traveling by bus, some trips took longer than expected, due to changing road conditions, which meant we took the long way around to complete our travels."
Sheeley said her Study Abroad experience has caused her to give greater consideration for her career plans, which included returning to northwest Lower Michigan to begin her career.
"I can't wait to go back to Haiti," Sheeley said. "It has changed my perspective on what I might do with my degree. I am now considering pursuit of a Doctorate of Social Work, so that I might become a medical social worker."
Walters has submitted a report to the Department of Social Work on the Study Abroad class, and is thankful to the Office of Diversity and Inclusion for their support of this effort, along with the Office of International Education.
"The OIE has welcomed us, for a presentation on our trip to Haiti," Walters said. "We are glad to share what we learned there with any interested group on campus."


PHOTO CAPTION: Assistant professor of Social Work Rita Walters meets with students of a parochial school, during Ferris State University's first offering of an experimental Study Abroad class, Social Work 390, International Engagement in Haiti. Walters led a group of eight students and a fellow faculty member from June 9-18.