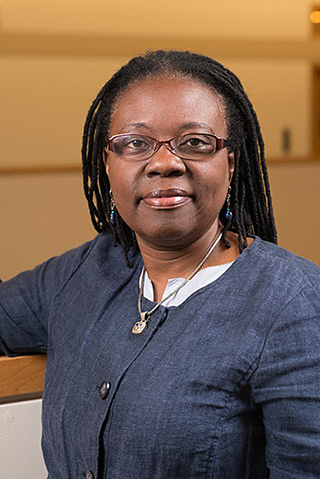 A Biology professor from Ferris State University will head to Adamstown, Maryland Monday, July 17 to participate in the Project Kaleidoscope, or PKAL STEM Leadership Institute.
Olukemi "Kemi" Fadayomi said she was pleased to be accepted for this intensive, five-day program, as the hope is to foster inclusivity and build greater retention in Ferris' Science, Technology, Engineering and Math curriculum.
"My goal is to revise curriculum content in our freshman-level courses so as to increase the success rate of students and better prepare them for advanced science courses," Fadayomi said. "Taking part in the PKAL institute will strengthen my tools and skillsets necessary to lead, manage and support undergraduate STEM reform programs and individual course material development."
Fadayomi said the institute, offered by the Association of American Colleges and Universities, is a major force in the call for reform in STEM instruction, with regard to higher education.
"This training is not so much designed for changes in participants' individual course, but its goal is for those instructors to help create a vision that would help STEM faculty collectively redesign courses to bring about the intended goal of helping students at risk be successful," Fadayomi said. "Ferris' Faculty Center for Teaching and Learning is very much behind this proposal and will be a great asset with its expertise in course design. The College of Arts, Sciences and Education is hoping to develop a workshop which will be designed to achieve this goal so that students persevere, and succeed in their STEM studies."
The PKAL STEM Leadership Institute, offered at the Claggett Center in Adamstown, near Baltimore, also offers "extended access to career coaches from the fully-accredited Fielding Graduate University Evidence Based Coaching Program." This new feature, according to the institute overview, "will provide participants with the individualized support and coaching they need to successfully navigate the inherent political, professional and personal complexities of institutional change leadership."
Fadayomi said the workshop to come, and the call for STEM instructional reform, will be purely optional for Ferris faculty.
"We will likely have a STEM-specific course design workshop during the fall semester where the resources can be provided for faculty to redesign their curriculum," Fadayomi said. "There is a commitment to provide a professional development incentive, but it has to be the faculty who see a need to do this and make the necessary changes."
Fadayomi said if interest is found, from non-STEM faculty, for this offering, it would merit a separate workshop.
"We have to bring people together, agree that we want to help students succeed, and embark upon changes that lead to retention," Fadayomi said. "I hope that the participants of the STEM faculty Course Design Institute will serve as a catalyst for a campus-wide STEM curriculum reform at the university."


PHOTO CAPTION: Pictured is Olukemi "Kemi" Fadayomi, a faculty member from the College of Arts, Sciences and Education.