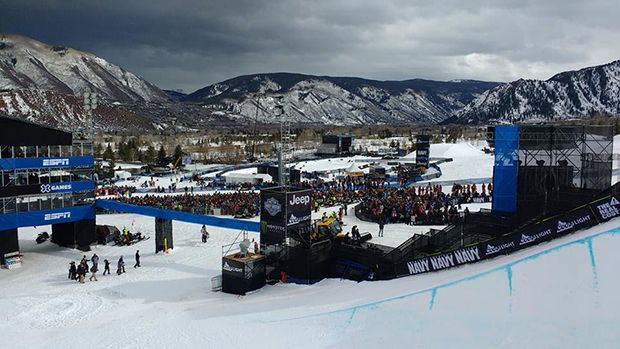 A group of 13 Ferris State University students and two Hospitality Management instructors were working long hours in guest service and event management roles at the 2017 Winter X Games, held Jan. 26-29 at Buttermilk Mountain in Aspen, Colo.


An unparalleled off-campus learning experience is complete, as 13 Ferris State University students have returned from the 2017 X Games Aspen, a collection of action winter sports competitions, music events and festival activities presented at Buttermilk Mountain in Aspen, Colo., which ran Thursday, Jan. 26 through Sunday, Jan. 29.
Ferris students from the Hospitality Management, Communications, Music Industry Management, Public Relations, Marketing, and Television and Digital Media Production programs took part in the guest services, hospitality duties and event management assignments, according to Hospitality Management Assistant Professor Amy Dorey.
"This experience is really life-changing for most of these students," Dorey said. "Their training, followed by application of guest service principles at an internationally-televised event with over 50,000 in attendance over four days really allows our students to understand the industry they are preparing to enter."
Dorey said the opportunity results from a continued relationship with the X Games and iDesign, an event development team contracted to ESPN, which televises the events, along with the ABC network.
"This is so much more than just attending the X Games," Dorey said. "Our students got on site by 9 a.m. each day, with their work continuing until midnight, or 1 a.m."
Ferris students who participated in the ESPN X Games university program included (all students listed are from Michigan unless otherwise noted):
Karly Balogh, Romulus
Carlie Bishop, Whitehall
Savannah Christiansen, Charlotte
Katarina Cody, Saline
Tyler Dame, Lapeer
Ashley Dardis, Otsego
Kate Kelly, Macomb
John Louw, Tigard, Ore.
Maci Palmer, Holt
Luke Pattison, Mass City
Amanda Roehl, Clinton Twp.
Devin Vargo, Fort Wayne, Ind.
Kyle Gilmore, Manton
Dorey was contracted as a guest service coordinator to the X Games, through Aspen Ski Co., to assist with event management and student program supervision, along with Hospitality Management Adjunct Professor Karyn Kiio. This was the second year that a contingent from the university took part in the program.