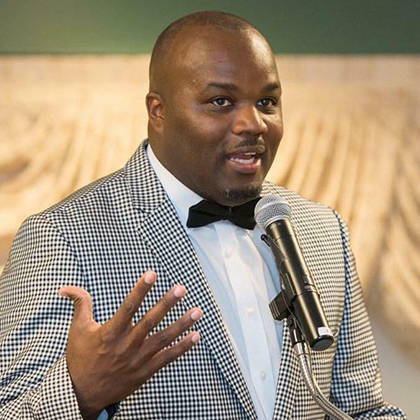 Five Ferris State University graduates will return to campus during the Spring 2017 semester, to give Sports Communication students, and other guests, their professional perspectives in the Sports Speaker Series.
The College of Arts, Sciences and Education degree program is in its fifth year, and the series is as well, according to Sandy Alspach, the Sports Communication advisor. Four of the 2017 speakers graduated from Ferris with degrees in Applied Speech Communication, and the other earned her Bachelor of Science in Recreation Leadership and Management, with a Sports Communication minor.
"We will open the series with Ira Childress, the athletic director at Okemos High School, on Wednesday, Jan. 25 in room 120 of the Interdisciplinary Resource Center," Alspach said. "We welcome student-athletes to join with Sports Communication students, that night, as Ira's talk begins at 6 p.m. and speaks to their experiences."
On Wednesday, Feb. 15, ESPN statistics analyst Gilbert Bransford will offer insight into his position with the trend-setting network, with that installment beginning at 4:30 p.m. in IRC 115.
Wednesday, March 15 will find Dawn Corwin, an alumna pursuing her doctorate at the University of Tennessee-Knoxville, in Communication and Information, presenting in IRC 115 beginning at 4:30 p.m. Alspach said Corwin earned her Master in Arts in Communication from Virginia Tech University, after graduating from Ferris.
"Dawn is looking to become a professor in the Sports Communication field," Alspach said. "Her presentation shows our students the prospect of an academic pursuit in their chosen field."
On Monday, April 3, Nathan Wells, the traffic operations manager with Palace Sports and Entertainment will relate his experiences at the sports and concert venue, near Detroit, in a 4:30 p.m. address in IRC 115.
"Nathan had started in Recreation Leadership and Management, and earned a bachelor's degree in Applied Speech Communication, with a sports concentration," Alspach said. "He was involved in game operations on the Ferris campus, and a facilities manager at an operation like the Palace is very involved with everyone who performs there."
The final speaker in the series is Askia Allison, who arrived at Ferris as an international kickboxing champion from the Detroit area. His presentation a Wednesday, April 26 will begin at 7 p.m., and Alspach said organizers are working to secure an appropriate location on campus to accommodate his inspiring message.
"Askia has his own gym, Metro United Karate, in Detroit," Alspach said. "He is training all ages and genders in the sport, including the 'Bulldog Karate Club.' That is an after-school program that offers positive reinforcement and training to its participants."
Alspach said each of these events is free and open to the public, and they have invited the Sports Careers registered student organization on campus to join Sports Communication students as special guests.
"It will be an important opportunity for these students to network with our speakers, to help further their learning in this field," Alspach said.
The Sports Speaker Series is sponsored by the Sports Communication program, the university's Department of Humanities, the College of Arts, Sciences and Education, and Sports Leadership Institute.


PHOTO CAPTION: Ira Childress, a Ferris State University alumnus and the director of athletics at Okemos High School (Mich.), will be part of the Sports Speaker Series.