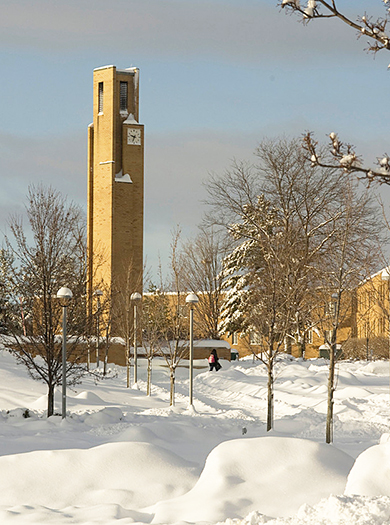 While on campus, take a few extra seconds to review the conditions and prepare yourself for the walk to your building. Watch for slippery areas in parking lots, walks and building entrances where snow, ice or water can accumulate. A pair of boots with non-slip soles are a good choice for footwear. In extreme conditions, traction aids that attach to your footwear can help prevent slips and falls. Remember to remove traction aids before walking on interior building floors to prevent slipping.
The Physical Plant Grounds Department is hard at work keeping walks, parking lots and roadways clear. However, they are responsible for about 20 miles of walks, 54 acres of parking lots and four miles of roadways. It takes a lot time to clear these areas. The Grounds Crew often starts its days at 3 a.m. to meet the demands of winter weather. Please be aware of these conditions and equipment that is operating in the area.
The National Safety Council offers the following tips:
Wear winter shoes/boots to work and change once inside.
Walk with shorter, choppier steps with toes pointed slightly outward when on slippery surfaces.
Wear sunglasses to cut down on glare.
Report slippery areas that need attention via the work order system.
Monitor television, radio, university websites, social media and other official news sources for closure and delay information. Click the University Closing or Cancelling of Classes Policy for more information.
Sign up to receive official Ferris State University Emergency Text Alerts so you are the first to know about time-sensitive campus safety issues, closings due to weather or other disruptions. Click instructions for more information.


This information is provided by the Safety, Health, Environmental and Risk Management Department.