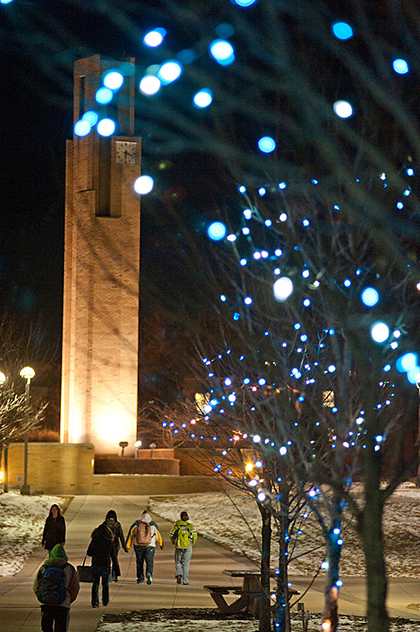 A leading American media company has included three of Ferris State University's online degree programs in its yearly ranking of the best available training in seven career disciplines.
U.S. News and World Report's 2017 rankings were released Tuesday, Jan. 10, with Ferris' online Master of Science in Nursing degree ranked 68th, among more than 130 schools included from across the country. Ferris' online bachelor's degree stood 76th, with more than 300 schools considered in that category, and the university's online Master in Business Administration improved to 115th, up from 152nd in 2016. More than 230 schools were included in that ranking.
Alex Manga, director of the MBA program in the university's College of Business, said he is excited by the reaction of applicants, who are responding to an aggressive marketing of the campaign on social media.
"We are making potential students aware of the quality of our MBA program, along with its considerable value," Manga said. "Our professors are offering a practical level of learning and experience to the pedagogy that is unique. While we are willing to consider applicants of varied backgrounds and qualifications, we will keep an academic rigor that is worthy of national attention."
Amy Greene, executive director of online education at Ferris, said the results, as part of being included in the U.S. News and World Report rankings, offer a concise method for students to compare programs and maximize their investment in education.
"Being ranked, and ranked among competitive programs, is indicative of how hard our faculty works to provide excellence in their instruction and curriculum," Greene said. "As a university, we are all striving to provide a quality of training that is well-accepted by a student's potential or current employer."
Greene said results show that Ferris ranks fourth best in the state for online bachelor's degree programs, among all universities and colleges included by the publication. Ferris was ranked 18th among public regional institutions in the Midwest in U.S. News and World Report's 2017 "Best Colleges" rankings, which were released in September 2016. Additionally, Ferris ranked 42nd in "Best Colleges for Veterans," among Midwest regional universities; 74th in the "Regional Universities Midwest Rankings" and 111th in the "Best Undergraduate Engineering Program Rankings" of schools with no applicable doctorate programs.

Click U.S. News and World Report for more information.


PHOTO CAPTION: Ferris State University was highlighted in several areas in the U.S. News and World Report's 2017 rankings.