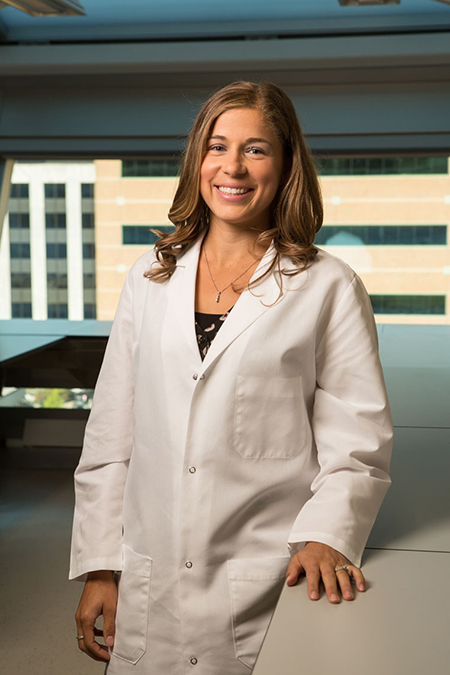 An assistant professor in Ferris State University's Department of Pharmaceutical Sciences has received a 2017 New Investigator Award from the American Association of Colleges of Pharmacy, which will provide $10,000 to support her research on Parkinson's disease.
Jennifer Lamberts is one of 16 recipients of the AACP's competitive award, and said she intends to provide research opportunities for first-year and second-year Pharmacy students.
"Parkinson's disease is the second most common neurodegenerative disease and a leading cause of disability and reduced quality of life among the aged population," Lamberts said. "The ultimate objective of this work is to discover novel targets for the prevention and/or treatment of Parkinson's disease."
Lamberts intends to research "Neuronal Injury and Parkinson's Disease; Role of Purinergic Signaling," which will be the subject of her presentation at the AACP Annual Meeting, to be held July 21-25, 2018 at the Sheraton Boston Hotel & Hynes Convention Center in Boston, Mass. The association will provide a $1,000 travel stipend to Lamberts, along with other New Investigator Award recipients.
Thomas Dowling, director of Ferris' Office of Research and Sponsored Programs, said the AACP award offers a unique learning opportunity for Lamberts' students.
"Dr. Lamberts is one of our outstanding new faculty and we are delighted by this national recognition of her research," Dowling said. "Her early successes in peer-reviewed, external funding exemplifies the teacher-scholar model, and our students will ultimately benefit from this award."
Lamberts earned her Bachelor of Science in Chemistry from Kalamazoo College (Mich.), and her Doctorate of Pharmacology from the University of Michigan. She also completed post-doctoral training at the Van Andel Institute. Lamberts joined Ferris' College of Pharmacy faculty in 2014.


PHOTO CAPTION: Ferris State University Department of Pharmaceutical Sciences assistant professor Jennifer Lamberts has received a 2017 New Investigator Award from the American Association of Colleges of Pharmacy. She will research Parkinson's disease, with the AACP providing $10,000 for that study.