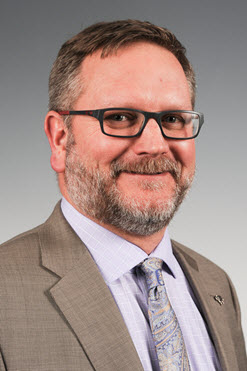 Robert W. Murray has been named Ferris State University's new associate vice president for Advancement, following a national search. The announcement of Murray's appointment was made by University Advancement and Marketing Vice President Shelly Pearcy, as Murray began his duties Wednesday, Jan. 4.
"We are elated to have Bob Murray joining Ferris and the University Advancement and Marketing team, at a time when the university is heading into its most comprehensive fundraising effort ever," Pearcy said. "Bob is a highly-qualified, passionate fundraising professional who brings substantial and relevant higher education campaign experience to this position. His fundraising success, leadership qualities, belief in Ferris' mission, and desire to build meaningful, loyal and sincere relationships with our donors and prospective donors give me confidence that he will be highly effective in his new role."
Murray comes to Ferris from Alma College, where he spent more than a decade in various development and planned giving roles, most recently serving as senior director of planned giving, including the role of executive director of an $80 million capital campaign for the private school. Murray said he is elated to join the University Advancement and Marketing division at this time.
"This is an exciting time at Ferris, and I think there are great opportunities here, especially to be partnering with a great team of professionals," Murray said. "Advancement work is a great adventure, and I am excited to be involved in moving the university in a positive direction."
Murray also gained experience in academics, as he earned a Bachelor of Science at Alma College, along with a Master of Science from Central Michigan University. He served as a laboratory instructor in Microbiology and Zoology, managed a molecular/microbiology laboratory and conducted research while with the Biology department at CMU.
"My background has been beneficial, as I was trained as a research scientist," Murray said. "I have since focused on my advancement efforts, being very passionate about the sciences. I am able to work across all curricula, which should aid my efforts for all eight colleges at Ferris, as well as the athletic programs."

PHOTO CAPTION: Robert Murray has begun duties as Ferris State University's associate vice president for Advancement Wednesday, Jan. 4. Murray's background includes more than 20 years of development and planned giving leadership at Alma College and Central Michigan University.