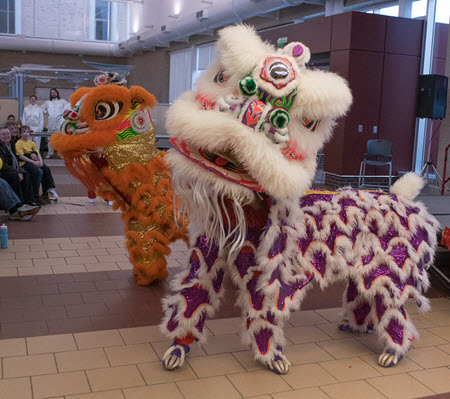 A celebration of the Lunar New Year will take place Friday, Jan. 27, in Ferris State University's Interdisciplinary Resource Center Connector, from 4 to 7 p.m.
Cindy Tran, president of the Asian Student Organization, said they are pleased to welcome the Michigan Hiryu Daiko drumming team to support their presentations to illustrate the importance of this event, which is celebrated in countries and territories with significant Asian populations.
"It has been a lot of work, but ASO is excited to have accepted this opportunity to be involved in the organization of this event," Tran said. "It has been a great learning experience to help organize our welcome to the Year of the Rooster."
Tran said they will have a disc jockey from their registered student organization entertaining, at 4 p.m., followed by a short presentation on the taboos and traditions surrounding the celebration of Lunar New Year. Friday, Jan. 27 is New Year's Eve, with traditional festivities continuing to Thursday, Feb. 2.
With five Roosters in the zodiac, where each offers unique characteristics, 2017 is the Fire Rooster and the last occurrence of that particular celebration was in 1957. Fire Roosters are said to be trustworthy, responsible and punctual, particularly at their workplace, while Roosters in general are thought to be amusing, honest and charming. Since the celebration is predicated by the cycle of the lunar calendar, the Year of the Rooster will continue to Feb. 15, 2018.
Michigan Hiryu Daiko will perform at 4:45 p.m., and Tran said students, faculty, staff and the Big Rapids community are welcome to enjoy the presentation. There will be arts and crafts such as learning Origami, with the specific goal of folding cranes. Participants will also learn how to make a Chinese knot keychain. A Chinese zodiac table will also be offered, along with Asian cuisine available to those attending the event.
Office of International Education Assistant Director Lisa Von Reichbauer said Lunar New Year celebrations have been held at Ferris for several years.
"It has always been well attended, with a lot of lively entertainment and, of course, delicious food," Von Reichbauer said. "We hope that anyone interested in attending will join us."
Tran said this was the first year the Asian Student Organization has been involved in presenting this event.
"We are very pleased to have collaborated with the OIE, and to have received the support of the Diversity and Inclusion Office," Tran said. "We hope to have a big crowd, and invite everyone to stay with us, as Michigan Hiryu Daiko leads us in an interactive performance, at 6:15 p.m."


PHOTO CAPTION: Celebration of Lunar New Year, the Year of the Rooster will take place Friday, Jan. 27 in Ferris State University's IRC Connector. At the 2016 Lunar New Year celebration, costumed figures helped to entertain the audience.