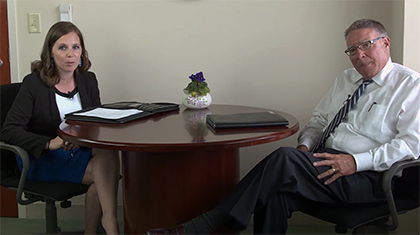 Ferris State University's Doctorate in Community College Leadership program has released its second wave of videos in its Legendary Leadership documentary video project. Legendary Leadership is a series of frank conversations with prominent community college presidents who share the unique challenges they faced and lessons they learned while leading this rapidly-evolving segment of higher education. The presidents define the skills needed by the next generation of leaders, with advice that's relevant to all segments of higher education, and beyond.
Released on Jan. 13 are documentary interviews with Kenneth Ender, president of Harper College (Ill.), and Marilyn Schlack, president of Kalamazoo Valley Community College (Mich.). Ender said that emerging community college leaders have to "feel comfortable building the plane while flying it," because today's leaders must have a high tolerance for ambiguity and uncertainty. Schlack enjoys the distinction of being the first woman to attain a community college presidency in the state of Michigan. She discusses motivational strategies, organizational communication and multi-generational leadership.
Already released are interviews with Sylvia Jenkins, president of Moraine Valley Community College (Ill.); James Jacobs, president of Macomb Community College (Mich.); Dick Shaink, retired president of Mott Community College (Mich.); and E. Ann McGee, president of Seminole State College (Fla.). Planned for release, in February 2017, are interviews with Laura Meeks, retired president of Eastern Gateway Community College (Oh.), and Gunder Myran, retired president of Washtenaw Community College (Mich.). Meeks explores the skills and personal qualities necessary to be successful while Myran, who is widely-considered the father of adult and continuing education in community colleges, discusses the spiritual side of leadership and the "soft skills" that define the best leaders.
"The Doctorate in Community College Leadership Program initiated the series to capture some of the most important lessons learned by presidents – the stuff you can't learn from a textbook – so they can be passed on to the next generation of leaders," said Roberta Teahen, associate provost and director of Ferris' DCCL program. "The presidents have been extraordinarily open, honest and authentic, in their interviews, and that's what makes the interviews so compelling."
All of the interviewers are graduates of, or students in, the DCCL program and are holding current positions at community colleges. Teahen anticipates additional videos in the future and welcomes suggestions for future topics and presidents.
The videos can be viewed by visiting the Legendary Leadership website.
About the DCCL

The Doctorate in Community College Leadership at Ferris State University is a rigorous program tailored for rising community college leaders and those aspiring to top posts. Believed to be first in the nation to be built from the ground up based on the direct input of current community college leaders, and the first to intentionally build dissertation work into the program throughout, the DCCL program spans nine semesters of both face-to-face and online instruction, plus a dissertation. Courses are generally taught by community college presidents and current professional practitioners, providing real-life experience as well as the theoretical underpinnings of leadership topics. A study abroad option was recently added to offer DCCL students a global perspective. The 2016 trip was to China.

For more DCCL information, visit the Legendary Leadership website or contact Teahen at (231) 591-2300 or [email protected].


PHOTO CAPTION: Kenneth Ender, president of Harper College (Ill.), was interviewed by Talia Koronkiewicz, assistant vice president of student services at Volunteer State Community College, and an alumna of the Doctorate in Community College Leadership program, as part of the Legendary Leadership video series.