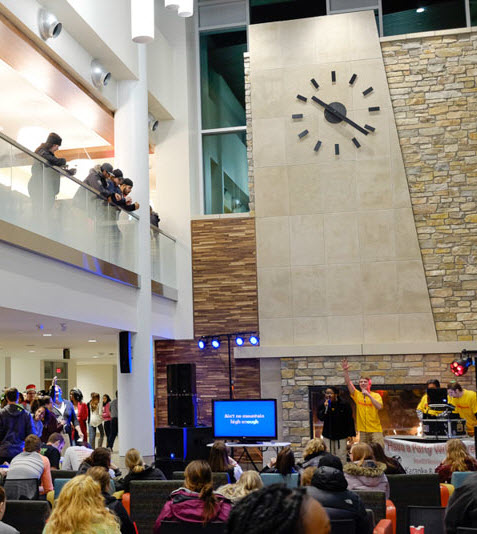 An evening of activities, enjoyment and food has been planned for Ferris State University students, in recognition of the second anniversary of the University Center's opening, on Friday, Jan. 20. The celebration begins at 8 p.m.
"We have a beautiful facility, and welcome all students who live on or off campus to come take a ride on the mechanical bulldog, play some miniature golf, and make some new friends during the celebration," Ferris' Dean of Student Life Joy Pufhal said. "A student's time at the university, whether it is while they are in class, or enjoying the campus is like no other in their adult life. We hope everyone takes the opportunity to stop by, at any time up to 12 midnight."
Entertainment Unlimited is collaborating with the celebration by offering Bongo Ball Mania, in the UC Ballroom, which will run from 7 to 11:45 p.m. The event is described as "an exciting combination of paintball and Nerf guns," where participants start with only one projectile to shoot, and will need to gather ammunition from the field of play to continue.
Mark Schuelke, director of the University Center, said other activities and entertainment include karaoke, making street signs, temporary tattoos, the Just Dance video game, and samples from the Quad Café and Starbucks.
"We hope the campus community visits all three levels of the center, and tries to sink a hole-in-one, to win a prize," Scheulke said. "The Pride Committee and our staff will be unveiling a new Penny Press, and we will show off its four different designs at the celebration."