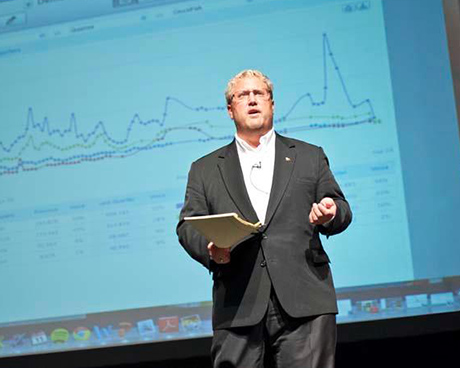 The founder and chief visionary officer of Social Media Energy, a Colorado-based strategic content management firm, will speak at his alma mater Thursday, Feb. 23, in a five-star event, during Ferris State University's Career and Internship Week.
Luke Wyckoff, who earned an Associate of Applied Science in Audio/Visual Production, and a Bachelor of Science in Marketing-Sales with a minor in Speech Communication, in 1993, from Ferris, will offer his perspectives on excellence in digital media strategy in a 6 p.m. presentation in Williams Auditorium.
Social Media Energy manages the digital media presence of more than 300 clients, with the support of 25 permanent and contracted team members. Wyckoff also operates a consulting firm that executes executive search and human resource assessments for its clients. He said his talk, "How Social Media CAN Get You the Job," is intended to challenge students to consider their use of these platforms as an opportunity to showcase themselves to employers.
"It's important to understand both offensive and defensive communications strategies, and to ask yourself, 'Am I even playing the game?'" Wyckoff said. "While some experts will tell clients to take a safe, or 'vanilla' approach with these messages, I go against the grain on that one, since staying neutral in your job search will put you in a pile that includes 400 other resumes. Companies who emphasize their brand in social media presentations enjoy improved candidate quality, so candidates should be just as concerned with how they present themselves."
Wyckoff said Ferris students preparing to search the job market and start their careers would benefit from a careful self-examination, while trusting in the value of the education they have earned from the university.
"Understanding your passion is as important as understanding what your degree is about," Wyckoff said. "In 1990, Harvard didn't know who Ferris State University was, until our debate team pummeled them in competition. I want every student to understand that they are on the same playing field with every other single graduate."
Wyckoff's presentation is sponsored by CLACS, the Professional Greek Council, the AMA Ferris student organization and supported by Student Activity Funds, which are allocated by the Finance Division of Student Government.
Those who require special accommodations to attend this event should contact the CLACS office, or call (231) 591-2685 at least 72 hours in advance.


PHOTO CAPTION: Ferris State University alumnus Luke Wyckoff, a 1993 graduate of the College of Business, will speak on Thursday, Feb. 23. The five-star event begins at 6 p.m. in Williams Auditorium, with Wyckoff explaining "How Social Media CAN Get You The Job."