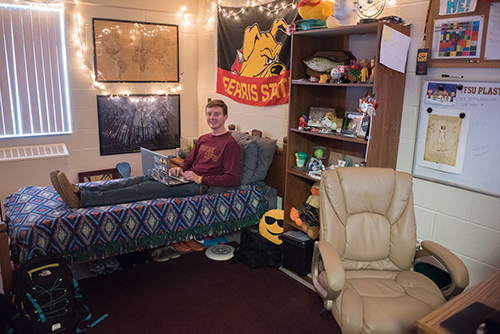 PHOTO CAPTIONS: Students have a variety of housing options on campus, even during the summer months. Shown above and below are a traditional campus residence hall experience. The Office of Housing and Residence Life is offering free residence hall housing to qualifying students.
Ferris State University's summer semester is now a lot cooler for students who are interested in taking classes and living on campus.
Ferris opened its summer housing contracting, on Feb. 15, and announced a plan that allows students who are enrolled in six or more credits, during the Summer 2017 semester, to enjoy greater benefits from living on campus. Students paying for six or more credits will now enjoy free residency in a hall, a benefit that includes unlimited utilities, close proximity to academic buildings and access to The Rock Café, purchasing the Bulldog Anytime summer meal plan.
"We want our students to know Ferris can be their summer home and, as part of that, we're excited to make the summer residential experience a great one for our students who can speed up their time to a Ferris degree,"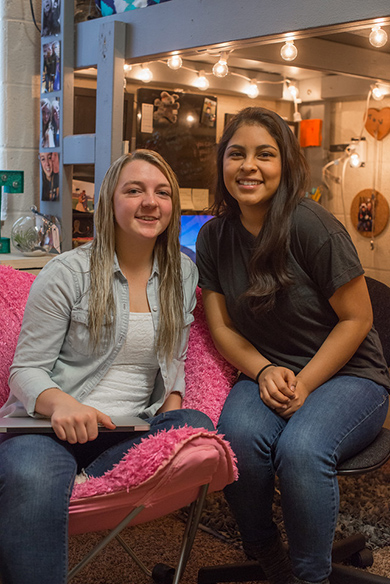 said Gheretta Harris, Ferris' associate vice president for Auxiliary Enterprises. "That our enrolled students can stay on campus, for free, and have access to The Rock, is a great complement to the other great things that are already part of living on campus during the summer. Ferris maintains a full array of services, during the summer, as it does during the fall and spring semesters. In the summer, a lot of what Ferris has to offer is even more accessible."
Additionally, students who are working fulltime on campus, and who have signed a housing contract for the 2017-18 academic year, also qualify for the free Summer 2017 housing deal.
Bryan Marquardt, director of the Office of Housing and Residence Life, noted the numerous benefits for residential students who are taking classes during the summer. Living on campus, Marquardt explained, offers fewer headaches for students who can focus more closely on academics, and less on paying utility bills and buying groceries. He further emphasized the safety and security of Ferris' on-campus residential experience.
"Taking summer classes, while living on campus, gives our students the best of all worlds," he said. "They still receive the same quality of education, in an atmosphere that is generally more laid back. All of the services will be there for our residential students. Plus, campus is beautiful during the summer, and the greater Big Rapids area offers numerous recreational and shopping opportunities, including the Downtown Big Rapids Farmer's Market, festivals, music concerts, biking, hiking, the Riverwalk, tubing down the river and more."
Campus residential facilities open, for the Summer 2017 semester, on Sunday, May 14, beginning at 10 a.m. The first day of summer classes is Tuesday, May 16.
Special rates apply for students interested in residing in East Campus Suites or West Campus Apartments. For more information related to the summer housing program, visit the Housing and Residence Life website.
Ferris also has an option for students who are currently enrolled in a different college or university, but are interested in summer enrollment. Guest students can fill out a special application to attend classes during the summer. Click the "guest students" link for more information and to fill out an application.
Students interesting in signing a housing contract can visit the Housing and Residence Life page for more information.
Anyone with questions can contact the Office of Housing and Residence Life at (231) 591-3745 or email at [email protected].