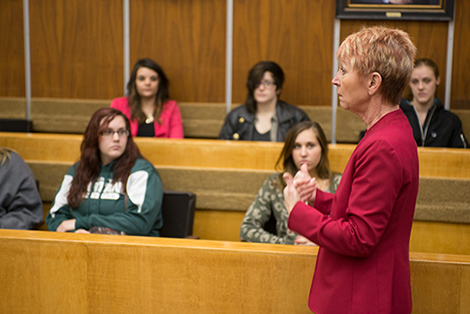 The Council on Social Work Education has conferred full accreditation for Ferris State University's Master of Social Work program, which completes a three-year process to assure that students can be licensed as therapists and counselors.
The process began in Fall 2013 with partial accreditation from the CSWE, with the university required to submit annual self-study reports, which detailed the efforts being made to develop the program. Site visits were conducted, annually, with representatives approved by the CSWE's Office of Social Work Accreditation coming to main campus in Big Rapids in the spring of each year, after which, full accreditation was granted.
Professor Wendy Samuels is program director for the Master of Social Work, and chair of the department. She said their 72 students represent the largest number of credit hours in any Master's degree program at the university.
"Students in our MSW program are generally from the central and northern areas of the Lower Peninsula, and we have a number of students who earned their Bachelor of Social Work degree at Ferris," Samuels said. "We are pleased to have added our first students from the Detroit metro area, as we hope to continue our outreach, to achieve a more diverse study body."
The MSW students include 14 from Northwestern Michigan College in Traverse City, where Ferris has had on-site instruction in the BSW program for a number of years.
Samuels said since Ferris' MSW program began offering classes in Fall 2014, the department has focused on incorporating a trauma-informed treatment framework in its instruction.
"It is important to recognize that many clients have had significant trauma in their lives," Samuels said. "That means we have to consider their treatment through that lens. Many MSW programs will have a class that is geared to trauma-informed practice, but this focus is infused across our program's curriculum."
Samuels said class sizes in Ferris' MSW program are a point of emphasis, as they strive for excellence in instruction.
"Counselors and therapists receive a valuable opportunity to practice their skill sets, as part of our internship program," she said. "Student input tells us they value the learning they can accomplish, so our class sizes will remain in the area of 15 students."


PHOTO CAPTION: Wendy Samuels, program director for the Social Work program at Ferris State University, instructs a class.