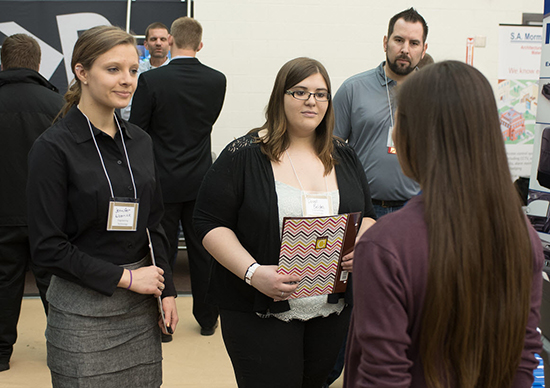 Click the link for a special Career Week edition of The Ferris Lowdown.
Ferris State University's Spring Career Week 2017 activities, scheduled for Monday, Feb. 20 through Tuesday, Feb. 28, offers students and alumni three Career and Internship Fairs and newly-formatted presentations, based on input from employers, students and the Center for Leadership, Activities and Career Services' advisory council.
CLACS Career and Volunteer Center Coordinator Michele Albright said the university's recruiting platform, Handshake, is an important resource for students to learn about employment and internship opportunities, to register for events, and to connect directly with recruiters.
"There are resources there, so students can practice interviewing skills, research employers and create a winning resume," Albright said. "Students will find real-time listings of employers, descriptions of their organization and what employment opportunities they are offering. They can register with Handshake through their MyFSU account."
Albright said the series of Career Boot Camp workshops will begin during Spring Career Week 2017 and will continue at the Leadership Conference Thursday, Feb. 23 and the Grad Fair, Tuesday, Feb. 28.
"These programs were created to help students make a successful transition from college to their careers," Albright said. "On Tuesday, Feb. 21, a panel of recent alumni and employers will discuss 'Millennials in the Workforce,' from 11 a.m. to 12 p.m. in the Rankin Center Atrium. On Friday, the 24th, we hope to help students explore hard-to-find opportunities in 'Nothing for Me Here,' as some industries seek their talent outside of typical career recruitment methods."
Ferris alumnus Luke Wyckoff will also speak Thursday, Feb. 23, at a five-star event in Williams Auditorium. Wyckoff's presentation is sponsored by CLACS, the Professional Greek Council, the AMA Ferris student organization, and supported by Student Activity Funds, which are allocated by the Finance Division of Student Government.
"Luke is excited to share the message of how to use social media to get noticed, and create opportunities for yourself," Albright said. "His presentation will begin at 6 p.m., and we believe students will benefit from his expertise."
Albright said they will offer Career and Internship Fairs Monday, Feb. 20 and Thursday, Feb. 23, with the final session to be held Monday, Feb. 27. Each fair will be held on the second floor of the University Center, from 10 a.m. to 3 p.m.
"Students from all majors and programs, along with our alumni, can take part any day," Albright said. "Employers who are seeking students from the College of Engineering Technology will be featured on Monday, Feb. 20 and Thursday, Feb. 23, with an added focus on employers seeking students from the colleges of Business, Education and Human Services, and Arts, Sciences and Education. Monday, Feb. 27 is a general Career and Internship Fair, with a wide variety of industries looking for interns and employees."
Those who require special accommodations to attend any event during Spring Career Week 2017 should contact the CLACS office, or call (231) 591-2685 at least 72 hours in advance.


PHOTO CAPTION: The Spring Career Week 2017 will take place Monday, Feb. 20 though Tuesday, Feb. 28 on the Ferris State University campus. There will be three days of Career and Internship Fairs held in the University Center.