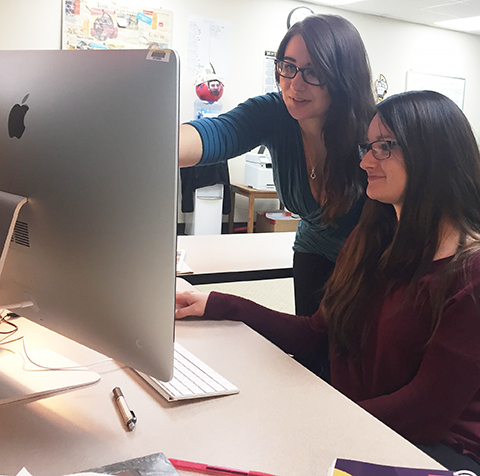 The Ferris State Torch's editorial staff and writers were pleased to learn of a Top 10 honor for their weekly campus newspaper, which was announced at the National College Media Convention, held recently in Dallas, Texas.
Assistant Professor of Languages and Literature Steven Fox, the Torch's adviser, said this is the third year the newspaper has sent a contingent to the event, which is hosted by Associated College Press and the National Scholastic Press Association.
"With around 3,500 students attending, this is the largest college journalism convention in the country," Fox said. "The Best of Show competition is limited to one entry per participating school. Since the event ran from Oct. 25-29, our students submitted the Wednesday, Oct. 25 edition."
The Best of Show awards were announced after Ferris' group left Dallas, so Fox said word of its success gradually spread through the Torch's management and writing staff in the days after the convention.
"It was very welcome news when we learned about this honor," Fox said. "The other recipients in the four-year school, weekly publication category are institutions with more robust journalism programs. To be recognized outside of the state of Michigan was a great boost for our staff."
Angela Graf, editor-in-chief of the Ferris State Torch, is a senior studying Business Administration/Human Resource Management from Brunswick, Ohio. She said staff members who attended the convention faced a bit of "Where is Ferris State?" inquiry, as they took part in personal development workshops and other group discussions.
"We had a bit of a shakeup in our editorial staff, prior to the academic year, but I knew what to expect when we went to Dallas," Graf said. "We had never made the Top 10 before, and, as the editor, I was a little surprised by the honor we received. It was great to be the only college in Michigan to be recognized as Best of Show in any category. Other award-winning schools in this competition are among the country's major institutions. To be recognized, along with them, was especially rewarding."
Fox said that the Torch has been successful in collecting Michigan Press Association awards, in recent years, including 15 in 2015's competition cycle. The Torch was named Michigan's Weekly College Newspaper of the Year, in 2016, when the publication earned 28 MPA awards for categories including design, photography and written content. The paper has been published and distributed on the Ferris campus since 1931, and updates stories daily online.

PHOTO CAPTION: Ferris State Torch Editor-in-Chief Angela Graf, (left) a senior from Brunswick, Ohio, and Managing Copy Editor Jennifer Corrie, a senior from Big Rapids, review the Nov. 29 edition of their paper. The Torch received a Top 10 honor for four-year, weekly publications at the National College Media Convention, held Oct. 25-29, in Dallas, Texas.