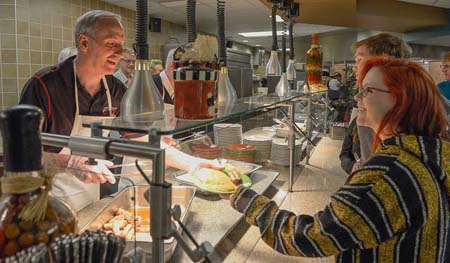 The fall semester is coming to an end, and final exams are just around the corner. To provide a study break for students, Ferris State University's Student Government Association is hosting Pancakes with the President on Monday, Dec. 11 from 10 p.m. to midnight in The Rock Café.
Pancakes with the President is hosted at the beginning of exam week during the fall and spring semesters. The event is an opportunity for students to take a study break and be served pancakes by Ferris President David Eisler, other members of the administration and the faculty.
Tess Strasser, director of operations for the Student Government Association, assisted in planning this year's Pancakes with the President event.
"I'm really looking forward to seeing everybody, one last time, before we head home for the holidays," Strasser said. "The planning process is great because, with such a big event like this, there are so many people contributing their time to make sure everything is a success."
Pancakes with the President is co-sponsored by Student Government, Dining Services, the Ferris Bookstore, the President's Office and the Pride Committee.
For more information about Pancakes with the President, contact the Student Government office at (231) 591-2611 or by email at [email protected].