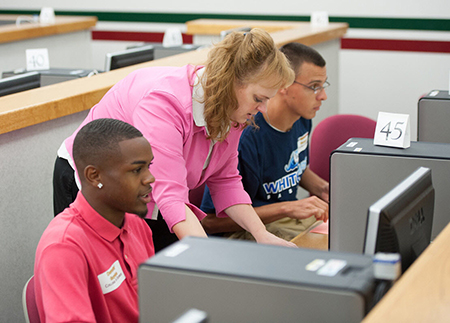 Opportunities to learn about Ferris State University programs and complete registration for fall semester classes have been available to new students throughout the summer. The final such orientation session, to prepare students for the 2017-18 academic year, begins at 9 a.m. Thursday, Aug. 24, based in the University Center building, with a day-long schedule of events.
Assistant Director of Admissions Eric Simone said they anticipate that around 100 students will be joined by family members, or other supporters, at this late orientation program. A few differences are present in the final session's agenda, compared to previous orientation schedules, due to the proximity of the fall semester.
"There will be no team building exercise for these students, in the Quad, as had been the case during orientation earlier in the summer," Simone said. "These students will also be allowed to move into their assigned residence halls immediately after the session so that their transition, as students on campus, is not complicated or delayed."
Simone added that advisors will be available to students attending the Aug. 24 orientation session. Registration, in appropriate courses, will be available to these new students.
"We will have seen approximately 2,100 students complete orientation with the conclusion of the late session," Simone said. "There are also several hundred students who have transferred to Ferris from other colleges and universities, and they have completed an online orientation program."
The first day of classes for the 2017 fall semester is Monday, Aug. 28.

Anyone with questions can contact [email protected] or call (800) 433-7747.

PHOTO CAPTION: The last orientation and registration event for new Ferris State University students will be held Thursday, Aug. 24, with a majority of the day's activities based in the University Center.