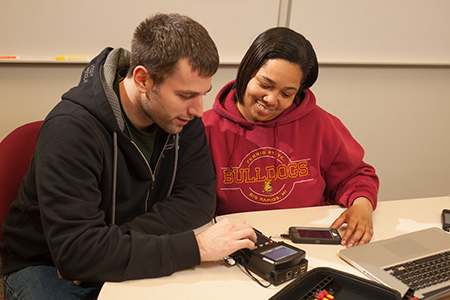 The Department of Defense Cyber Crime Center and Air Force Cyber Command Center have completed their review of Ferris State University's Information Security and Intelligence program, and have renewed its designation as a National Center of Digital Forensic Academic Excellence, which will be valid through July 2020.
The ISI program, established in 2007, was originally based at the Ferris-Grand Rapids campus, according to Professor and Program Coordinator Greg Gogolin. The Ferris alumnus earned an Associate of Applied Science, two Bachelor of Science degrees and a Master of Science in Computer Information Systems Management, prior to receiving his doctorate from Michigan State University. Gogolin said the federal government's continuance of the CDFAE designation was far from a formality, and he credits Assistant Professor Jim Furstenberg, also a Ferris alumnus, with a leadership role in this effort.
"Last year, the National Security Agency revised their criteria for qualifications making them much more stringent," Gogolin said. "Their review process identifies critical competencies such as networking skills that are required in the programs and the development of digital forensic training in the curriculum. Qualifying schools have to meet and surpass these expected outcomes."
Ferris was the first university in the nation to receive CDFAE designation which establishes best practices in digital forensics education. Gogolin said that honor was received in the Summer 2013, and was effective for a 60-month period.
"Part of the reason the ISI program continues as a leader in digital forensic studies is our research laboratory, which has received more than $2.3 million in grants and donations, making it the most advanced facility in the state," Gogolin said. "Their reports indicate that the excellence of our facilities, and prominence of our faculty weigh into this determination. We have also been recognized by the NSA and the U.S. Department of Homeland Security as a National Center of Academic Excellence in Cyber Education."
Gogolin said the Air Force was an early proponent of heightened cybersecurity, as a method of protecting critical data, and monitoring potential international threats. CDFAE designation places graduates of their Bachelor of Science and Master of Science programs in better standing for digital forensic research positions with government agencies.
"One of the advantages of the CDFAE designation is that a number of courses from Ferris and those offered within the Department of Defense are identified as articulated equivalents," Gogolin said. "This provides a streamlined process for degree-seeking individuals. Since the program was established, there has been continued interest from veterans who hail from northern Michigan, and applicants from neighboring states. We are proud of our faculty, and the attributes and designations they possess. This technical and professional expertise combines to make the ISI program an 'easy sell' to those pursuing a career in digital forensics."


PHOTO CAPTION: Ferris State University's Information Security and Intelligence program has seen its National Center of Digital Forensic Academic Excellence designation renewed by the Department of Defense Cyber Crime Center, and the Air Force Cyber Command Center. Students are trained in the most advanced digital forensics laboratory in the Midwest.