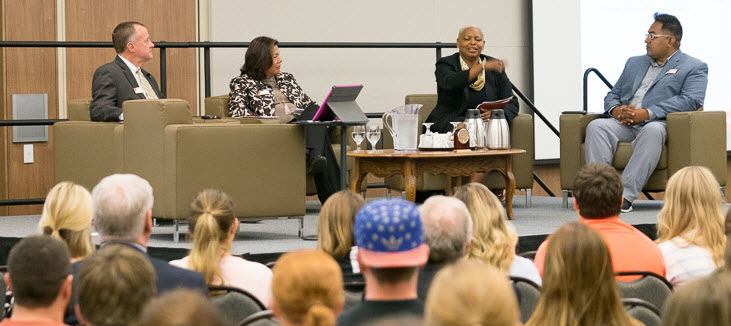 The importance of diversity and inclusion, both on the Ferris State University campus and in the workplace, will be explored during an event Wednesday, Sept. 13.
The College of Business has established a Committee on Inclusion to encourage open discussions about diversity. That committee will present four speakers that evening, during the second annual Conversation on Inclusion, to explore topics related to immigrants in the workplace.
Assistant Professor of Management Catherine Browers is chair of the Committee on Inclusion, and said the committee believes the Conversation on Inclusion will be a significant learning experience for all who participate.
"It is inevitable that students will encounter different cultures and lifestyles throughout their lives," Browers said. "Our Conversation on Inclusion provides a window to see and hear different business leaders' perspectives to help them better understand inclusion and diversity in their post-graduate careers."
Attendees will have the opportunity to listen to entrepreneurs from a variety of industries, who will share personal and professional experiences in the work environment. Each speaker will respond to questions from interested participants and the audience, regarding personal interests or concerns surrounding the topic of inclusion, along with their perspectives on immigrants in the workplace.
Jim Woolen, associate dean in the College of Business, said the university community and area residents are all welcome to attend this free event, to be held in the University Center ballroom.
"An event of this nature is important for students, because it broadens their view of the world beyond the borders of Michigan, enhances their marketability in today's diverse workplaces and opens their minds to see other cultures in a positive light," Woolen said. "Since we all live in a nation founded and populated by immigrants, it is imperative to understand and appreciate the value of working with diverse groups."
The second annual Conversation on Inclusion begins with an opening reception in UC 202B Wednesday, Sept. 13, at 5:30 p.m. The program is expected to conclude at 8:30 p.m. The committee asks that students and others interested in attending the Conversation on Inclusion to register online for the free event, beginning Aug. 28. Any other questions can be referred to Catherine Browers, by calling (231) 591-3145 or contacting her by email.
Those with disabilities who may need special accommodations to attend this event should contact Browers by phone, at least 72 hours in advance.


PHOTO CAPTION: The College of Business' Committee on Inclusion will welcome a panel of speakers for the second Conversation on Inclusion, Wednesday, Sept. 13 at the University Center.