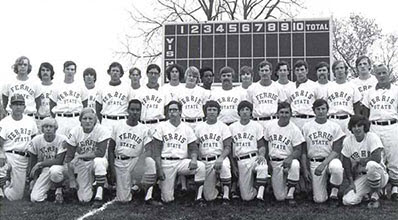 Former Ferris State University baseball players have been invited to share their memories of numerous Great Lakes Intercollegiate Athletic Conference championships, and more, on Saturday, Aug. 19, with a reunion planned at Hemlock Park, in Big Rapids.
Assistant Professor of Management Alex Manga, the director of Ferris' Master of Business Administration program, played on the 1984 and 1985 Bulldog baseball teams during his time as an undergraduate at the university. Manga returned to Ferris' faculty, in 2015, and said the baseball program changed his life.
"We had 25 commitments as of early August for the reunion, and we are very happy to be getting together with these former players," Manga said. "I received a letter from a man who played baseball at Ferris in the 1950s, and a number of calls from former players who could not make the reunion, but were pleased by this effort. It is important to recognize that Ferris was fielding baseball teams in its early days as an Institute, and I think it is imperative that we acknowledge that success and tradition."
The main events on the reunion schedule are a picnic lunch beginning at 12:30 p.m., followed by a 2 p.m. softball game. Manga said there are participants who have planned a full day of activity for this return to Big Rapids, and their alma mater.
"Some players will spend the morning in foursomes on Katke Golf Course, and there will be a late-morning tour of the campus," Manga said. "I want to thank Ted Halm of Ferris' University Advancement and Marketing office, for his assistance in developing the reunion schedule. His son, Nick, has captained the university's club baseball team the last two seasons, and while we see what the future might bring for the sport, at Ferris, we are just glad to gather, so we might talk about, and enjoy some baseball."
Halm will serve as a liaison for the Alumni Association at the picnic and game at Hemlock Park. Assistant Alumni Relations director Kevin Bunce said their office is pleased to offer and support this event.
"There are many guys who played together, at Ferris, and have continued their friendships," Bunce said. "We are thankful for Alex's effort to make this a special day, while supporting the a la carte nature of this event so our alumni can get what they want out of this visit."
Ferris Athletic Hall of Famer Judd Folske, a long-time baseball coach, is among those who will attend the reunion. He led the Bulldogs to seven GLIAC championships, including six straight titles from 1988-93.


PHOTO CAPTION: The Alumni Association will host a reunion of former Ferris State baseball players at Hemlock Park on Saturday, Aug. 19.