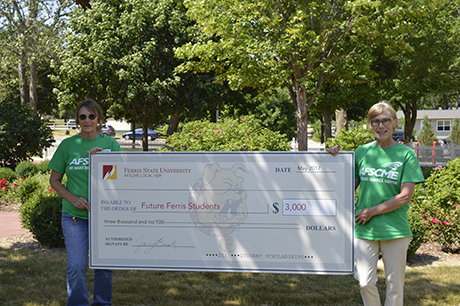 Since 2007, Ferris State University's American Federation of State, County and Municipal Employees and American Federation of Labor-Congress of Industrialized Organizations Local 1609 (AFSCME/AFL-CIO Local 1609) have provided annual scholarship support for local high school graduates to attend Ferris. For the 2017-18 academic year, AFSCME/AFL-CIO awarded a total of $3,000 to six deserving graduates and future Bulldogs.
To qualify for the scholarship, the candidate must earn a cumulative grade point average of 3.0, or higher, upon completion of a seventh semester of high school attendance, have missed no more than 10 days of school during the first semester of their senior year and have been accepted into a Ferris academic program by March 1, 2017. Candidates must also demonstrate financial need. The appropriate personnel at each of the participating high schools select individual recipients.
The scholarship is funded at $250 per semester during the recipient's freshman year. The second semester award is dependent upon the recipient earning a 3.0 GPA, or higher, during their first semester at Ferris. The financial assistance is applied directly to tuition and other costs the student incurs related to attending the university.
This year's scholarship recipients are:
Big Rapids – Owen Miller
Chippewa Hills – Trenton Williams
Crossroads Charter Academy (Big Rapids) – Laura Duddles
Evart – Megan Wade
Morley Stanwood – Deryn Brennan
Reed City – Merissa Averill
The goal of AFSCME/AFL-CIO, in presenting the scholarship, is to promote the importance of higher education to our local students in Big Rapids and the surrounding communities. These awards are intended to help local high school graduates achieve their dreams of obtaining a higher education through Ferris.


PHOTO CAPTION: AFSCME/AFL-CIO Local 1609 members Shirryl Sanger and Karen Rohdy present Ferris State with a $3,000 check, to fund scholarship awards for local high school graduates in Mecosta and Osceola counties.