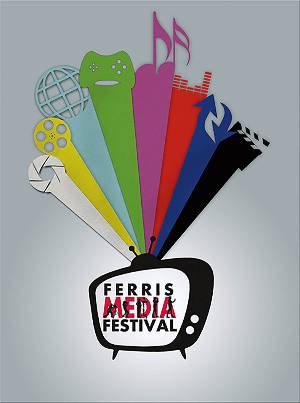 The School of Digital Media and Ferris State University's Media Communications Association, the registered student organization for Television and Digital Media Production and other curricula, will welcome six presenters on Friday, April 21, for the 17th annual Ferris Media Festival.
Megan Soller, a Big Rapids native and a junior in the TDMP program, is the president of the MCA chapter at Ferris, and said that they will benefit from the skill of two presenters on Thursday, April 20.
Alex Kimbrough, a director of live programming at WJBK television in Detroit, will direct the Television Studio Production class in room 153C of the Interdisciplinary Resource Center at 3 p.m. At 6 p.m., in room 111 of the College of Business building, film producer Aaron Peterson will screen his 2016 work, "Michigan Ice Film," and follow with a question-and-answer session.
"These events, and Friday's presentations, are open to students of all majors," Soller said. "While our professional guests are working in fields that are specific to communications and media, they will talk about the work they did to shape their careers. That has value for any student."
Soller said that the organization will post the locations for Friday's presentations in the IRC. Between 9 a.m. and 5 p.m., with an emphasis on the thoughts and productions of TDMP and Digital Animation and Game Design experts.
"It is always exciting to hear how our education can be put to use in the workforce," Soller said. "We encourage students to attend every event, and get a perspective on how technology impacts their creative efforts."
Among their featured presenters are Will Bonner, the lead engineer for virtual reality products in development for Google. Bonner had previously served as a quality assurance engineer for RIOT, which created the "League of Legends" game. DAGD alumnus Tony Trudeau, the senior art coordinator at Pocket Gems will open the afternoon's presentations, offering insights on his contributions to well-known games like "Farmville," "Mafia Wars" and "Book of Secrets."
"We provide the opportunity to meet with the presenters, even ask their advice about a particular situation," Soller said. "They will be able to offer perspective on what is currently available in the industry."
The Ferris Media Festival is supported by the Student Activity Fund as allocated by the Finance Division of Student Government. The event is co-sponsored by the College of Education and Human Services, the College of Arts, Sciences and Education, the Center for [email protected] Studies, AMA-Ferris, and the Diversity and Inclusion Office.
Soller encouraged all interested students to review the Ferris Media Festival Facebook page.

PHOTO CAPTION: The 17th annual Ferris Media Festival will be presented Friday, April 21 in the university's Interdisciplinary Resource Center. Students will be involved in a production the afternoon of Thursday, April 20 with presenter Alex Kimbrough, and another presenter will show a film that evening in the College of Business building.