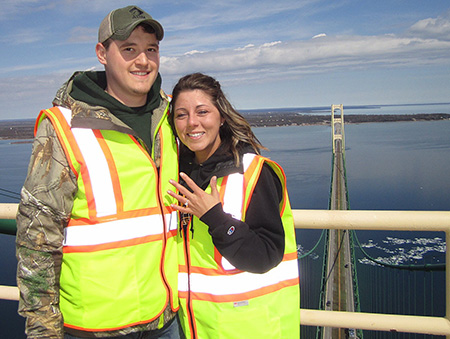 The first full week of April has been memorable and noteworthy for Ferris State University students Darrin Kolatski, of Cheboygan, and Kaylee Mansfield, of Sault Ste. Marie.
Kolatski, a Heavy Equipment Technology student, proposed marriage on Sunday, April 2, atop the south tower of the Mackinac Bridge, to Mansfield, an Allied Health student, who is entering the Dental Hygiene curriculum in the Fall 2017 semester.
Mansfield was led to believe their visit to the top of the 552-foot tall tower was the only reason they had gone to the Straits of Mackinac that day.
"His dad, Norman, told me he had a certificate to go up the tower, and asked if I wanted to go," Mansfield said. "We went to the toll building, in St. Ignace, and the Mackinac Bridge Authority drove us back to the tower, where the five of us (Mansfield, Kolatski, Darrin's parents, Norman and Courtney Kolatski, and his sister, Sierra) were taken on our tour."
Kolatski, who will complete classwork for his degree in Spring 2018, was content to let Kaylee adjust to the height and view for several minutes, following their arrival atop the tower.
"It was suggested that we stand up to take a picture, and that's when Darrin pulled the ring out of his pocket," Mansfield said. "I never thought that he would propose with anyone else around, but he did, with his family there to watch."
The two have been sweethearts for six years, and are parents of a 4-year-old son, Brody. Mansfield said she has had to handle a recent amount of celebrity, something to be juggled with her full-time duties in a dentist's office, and her classwork at Ferris.
"I have been surprised big time, as even when I am walking around Big Rapids, people are coming up to say, 'I saw you in that (MLive) article," Mansfield said. "There has been plenty going on this week since our engagement."
The couple is planning their wedding for Saturday, Aug. 18, 2018.


PHOTO CAPTION: Ferris State University students Darrin Kolatski, of Cheboygan, Mich. and Kaylee Mansfield, of St. Ste. Marie, Mich. show off Kaylee's engagement ring, standing atop the south tower of the Mackinac Bridge. Their engagement became official on Sunday, April 2. (Photo courtesy Sierra Kolatski)