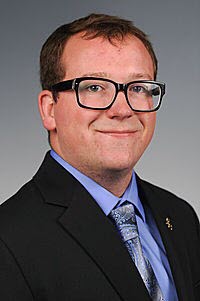 A junior in Accounting and Business Administration, who is also pursuing an associate degree in Legal Studies, will be president of Ferris State University's Student Government Association during the 2017-18 academic year.
Patrick Maloney, of McBain, ran unopposed in the March election, and noted that he is excited by assuming this leadership role in his third year as a member of the SGA.
"I was the representative of Phi Alpha Delta, a pre-law fraternity, in 2015-16," said Maloney, that organization's current president. "Former SGA President Dylan Tantalo selected me to be the treasurer of the association for this academic year."
Maloney said being the sole candidate seeking the presidency may have impacted the turnout, which was 59 votes, compared to an 850-vote total in the two previous elections. The incoming president said that his goal is to build greater engagement with the larger student population.
"If they knew, as students or members of an organization, what the SGA can offer them, in terms of distributing information and other offerings, I believe we would see more of them voting," Maloney said. "We would also welcome students bringing any concerns or interests to student government because we want to hear from them."
Maloney said some restructuring of the SGA is likely as his executive board is assembled and begins operating as an administration.
"There are transparency initiatives outgoing President Josh Olszewski helped to establish and they need to be continued and advanced," Maloney said. "We have to focus on being a welcoming group which needs to go beyond a committee as I believe it should apply to all who serve in the SGA."


PHOTO CAPTION: Ferris State University's Student Government Association will be led by junior Patrick Maloney, following an election which concluded on Monday, April 10. Maloney, the president of the Phi Alpha Delta pre-law fraternity, has been treasurer for the SGA Executive Board, and will enter his third year with the association this fall.