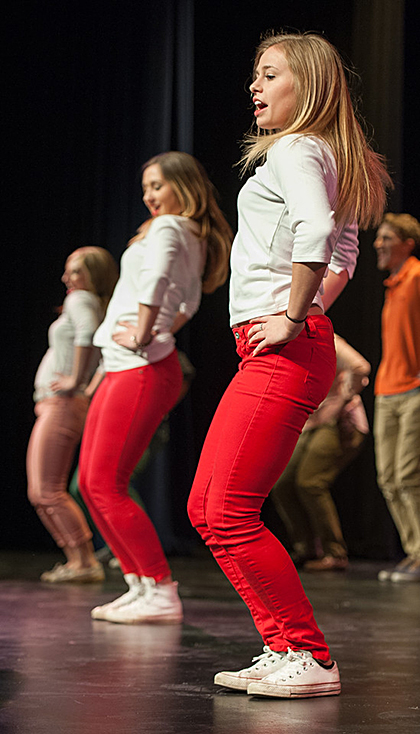 Ferris State University will host Greek Week 2017, April 17-22, to support the Animal Rescue Coalition of Mecosta County.
Each day of Greek Week will host a different event to raise money to support the philanthropy, as well as give points to participating Greek organizations who are competing to win Greek Week. A sign-in sheet will be present at every event to record names and organizations.
"Greek Week is an exciting week for the Panhellenic and Interfraternity Council Fraternities community to come together and show the campus Greek Unity," said Melissa Klinger of Grosse Pointe, an Insurance and Risk Management major and Greek Week coordinator, "I really hope that the week turns out perfect for everyone. I am also most excited to see how much money we raise for the Animal Rescue Coalition, which is also a new aspect of our event, as we have not dedicated this entire week to philanthropy before."
On Monday, April 17, a blood drive will take place in UC 202 from 11 a.m. to 4 p.m. One point will be given to each chapter member that donates blood. If a chapter member is unable to give blood, they will get a point for coming out to support. If 50 percent of members give blood, an extra 10 points will be awarded.
Tuesday, April 18 will find "Greeks in the Quad," from 11 a.m. to 4 p.m. The event is designed to show Greek unity throughout campus and raise money, collectively. Chapters will be given a table with change buckets to collect money. The chapter that raises the most money will get 30 points and each member that signs in throughout the event will get two points. If they wear letters they will be awarded four. In the event of rain, the event will take place 5 to 9 p.m. that day, in rooms 211, 213 and 217 of the University Center.
Wednesday, April 19, the University Recreation will host the Greek Games, from 10 p.m. to 12 a.m. Games include Tug-of-War, dodgeball and a relay race. Every chapter member will be required to fill out waiver forms, regardless of participation. The first-place team will receive 20 points.
Thursday, April 20 will be the time for an online Facebook competition to show campus Greek unity with entrants wearing letters and posting pictures with fellow Greeks. One point will be awarded for every brother or sister who takes a picture with another Greek member who is also wearing letters.
Friday, April 21 will see the biannual Lip Sync Competition held in Williams Auditorium, beginning at 7 p.m. A total of 40 points will be available to competing groups in a variety of categories. People's Choice will also be up for grabs with members collecting money, and the chapter with the most money wins. Once the competition is finished, the overall winners of Greek Week will be announced.
For more information on Greek Week and the point system, contact Mel Klinger at [email protected] or Matt Jones at [email protected].

PHOTO CAPTION: Greek Week 2017 at Ferris State University will be held Monday, April 17, to Saturday, April 22. In a previous Greek Week activity, members of Panhellenic organizations and Interfraternity Council Fraternities (IFC) compete for points, in an attempt to win Greek Week.