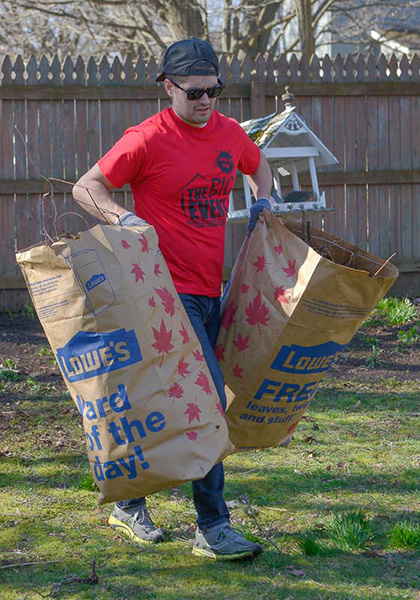 Click the link for information regarding The Big Event Photo Challenge.

Click the link for a video preview of The Big Event.
Organizers hope to increase participation in Ferris State University's The Big Event, which has become the largest one-day, student-run service project in Michigan.
The 10th anniversary of The Big Event is set for Saturday, April 22, according to director Alex Reeds, a senior from Gladwin, Mich. in the College of Arts, Sciences and Education' Psychology program. With the support of the Student Government Association, as hosts, Reeds said organizers hope to smash the participation record by welcoming 2,500 students to serve maintenance needs and other projects for city of Big Rapids residents.
"We are hoping students respond and make this the biggest event yet," Reeds said. "The first 1,500 students to arrive at Top Taggart Field that morning will be served breakfast, and all participants will have their lunches provided. Students can sign up through Friday, April 21, by using OrgSync. We regret that we will not be able to accept any more service requests from Big Rapids residents."
Reeds said those arriving at 9 a.m., when team captains are required to arrive, will be welcomed with breakfast, a DJ performing on site and the day's first opportunity to win a prize. It is requested that volunteers arrive by 9:30 a.m.
"Students who participate will have the chance to win a Ferris State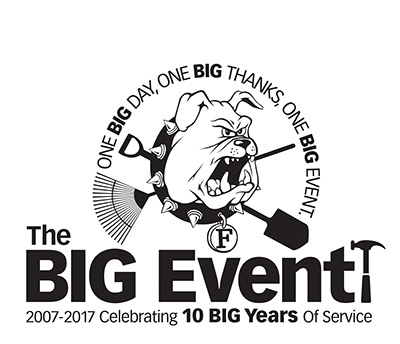 University/The Big Event cooler with our anniversary logo and other designs on it by making entries through a social media contest," Reeds said. "Throughout the day, we hope to make a special effort to give back to our volunteers."
Reeds said organizers hope students complete registration, at the field, prior to 10 a.m., when they hope to fire up the crowd with the help of the FSU Cheer Team and other speakers during opening ceremonies.
"Ferris' founder of The Big Event, Claire Gallo, will be there to tell of how it was started back in 2008," Reeds said. "Claire continues to have a real passion for The Big Event, and we're glad she's joining us. Other speakers and entertainment will follow, including the firing of the ROTC cannon to help launch our volunteers to their resident sites."
Student volunteers will be given shirts with a new 10th anniversary logo. Reeds said the shirts were specially designed for The Big Event 2017. Reeds said that to guarantee receiving a shirt, students should make sure to register by Monday, April 10.
"We felt it was important to recognize the anniversary and we hope students and supporters enjoy the design change from the standard 'house logo' we have had," Reeds said. "We also hope they noticed the design when they were signing up on OrgSync."
Participants will be encouraged to remain in the Top Taggart Field area, after 3 p.m., when they return their rakes and other items they had taken to work sites. Reeds said they will be awarding prizes at that time.
"We are encouraging our student teams to nominate the hardest working volunteers at their site," Reeds said. "We will have a number of Gypsy Nickel gift certificates to give out, along with a great supply of Ferris gear."
More information on The Big Event is available through their Facebook page.

PHOTO CAPTION: A new logo has been developed for Ferris State University's The Big Event. The outreach program, where students do yard work and other maintenance for Big Rapids residents, is the largest one-day, student run service project in Michigan.