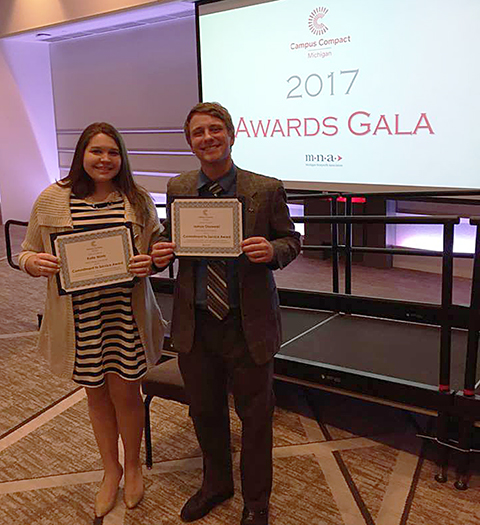 Standing with fellow students from Michigan peer institutions, all with a shared commitment to and passion for community service, was a special experience for two Ferris State University Public Relations majors. Katie Nimtz and Josh Olszewski stood among 29 students who received Commitment to Service awards from Michigan Campus Compact during an awards ceremony, in late March, in Lansing, Mich.
The Commitment to Service award highlights the achievement of some of the state's most dedicated student community service leaders.
"It was inspiring to catch a glimpse of the bigger picture. Students from campuses around the state are striving to serve their communities," said Olszewski, a native of Hartland, Mich., who currently serves as president of Ferris' Student Government organization. "This event was proof that students really do have the power to make positive change."
Hearing inspiring testimonials reminded attendees of the value of their work.
"The atmosphere during the event was heartwarming," said Nimtz, of Eau Claire, Mich., director of public relations for Student Government and vice president of campus and community outreach for the Ferris chapter of the Public Relations Student Society of America. "Nick Blumenau, an Outstanding Community Impact recipient from Siena Heights University, summed it up during his acceptance speech saying that if we all work on our own corner of the world, using our gifts and talents, together we can make a real change. Hearing Nick and the other recipients tell us about their stories of what drives them to make a difference was inspiring. I will never forget this wonderful experience and am honored to receive the Commitment to Service Award."
Nimtz and Olszewski were accompanied at the event by several Ferris faculty and staff members: Michele Albright, from the Center for Leadership Activities and Career Services; Cathy Bordeau, advisor for the Honors Program; and Sandra Burns, an associate professor of Dental Hygiene from the College of Health Professions.
Leadership and service were consistent themes that hit close to home for Nimtz.
"In every position I have held, in college and prior, my focus has been how to give back," Nimtz said. "I aspire to show my peers that life is so much more than just dollar signs. It is about community and the individuals who all have a unique story. True leadership isn't about the titles or the prizes. It's about taking an active role to connect people with what drives their passion and fire every day. Volunteering has never been about the return. Being able to watch the small changes on campus and in the community has driven me to serve from the beginning."
Formed in 1989, Michigan Campus Compact is a partnership of college and university presidents and chancellors who have committed themselves and their institutions to their communities through mutually beneficial and meaningful collaborations to create engaged citizens and vibrant communities. Michigan Campus Compact proudly works with public, independent and two-year institutions of higher education to meet student learning outcomes, address strategic priorities of member campuses and cultivate sustainable campus-community partnerships.

Click Michigan Campus Compact for more information.


PHOTO CAPTION: Ferris State University students Katie Nimtz, left, and Josh Olszewski, right, were honored for their community service by the Michigan Campus Compact. The ceremony took place in late March in Lansing, Mich. (Courtesy Photo/Jenna Grimm)