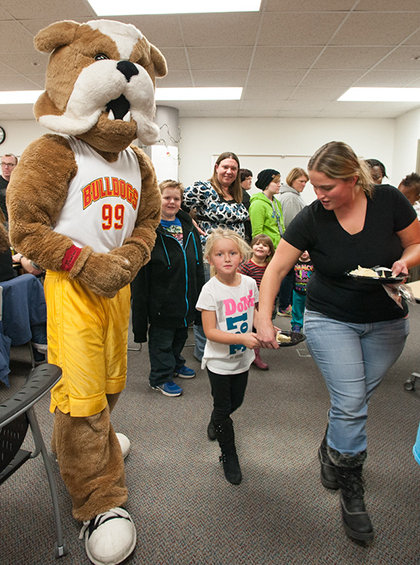 Click the link to view a video message from President Eisler and Vice President for Student Affairs Ward-Roof.
A collaborative effort to support incoming Ferris State University students and their families has resulted in the first Family and Friends weekend on the Big Rapids campus, which is set for Friday, Oct. 14 through Sunday, Oct. 16.
Financial Aid Office coordinator and advisor Melanie Mulder chairs the Parents Committee, an initiative started by Jeanine Ward-Roof, vice president for Student Affairs. Mulder said that the committee has worked to improve the online presence Ferris offers to parents of prospective and incoming students, developing a parent's calendar, a newsletter delivered by email to parents, and establishment of the Family and Friends weekend.
"We received many requests by email to create this event," Mulder said. "We are working to get parents involved, so their children's experience is more enjoyable and, we hope, this leads to more students choosing Ferris, and continuing their learning, here."
Ferris' women's soccer team has home games against Findlay and Ohio Dominican on Friday, Oct. 14 and Sunday, Oct. 16, and the football and hockey teams have home games against Northern Michigan, and Michigan, respectively, on Saturday, Oct. 15, but Mulder said there are other events planned, which they hope families can enjoy in an a la carte fashion.
"We have planned a family-friendly game show, Nerdology, the evening of Friday, Oct. 14 in the University Center," Mulder said. "There's a Luncheon with the President, Saturday, Oct. 15; the Tuba Bach performers will support The Circus, a Cirque de Soleil-style performance on Saturday, Oct. 15 and Sunday, Oct. 16 at Big Rapids High School. We hope our visitors visit Big Rapids' shops and restaurants, choosing what they would enjoy, whether that includes, or does not include the university's athletic events."
Mulder said that they are pleased to offer the Saturday, Oct. 15 luncheon in the Granger Center's atrium, based on the response to this first-time offering. They had not anticipated having to close registration for the Family and Friends weekend.
"The registration numbers far exceeded our original expectations, in terms of participation," Mulder said. "We certainly expect that this will become an annual event."


PHOTO CAPTION: The inaugural Family and Friends Weekend has been organized, with a variety of events offered Friday, Oct. 14 through Sunday, Oct. 16. These social opportunities for new and prospective Ferris State University students, and their families include a "Tailgate on Ice" in the Ewigleben Sports Complex, prior to the Ferris hockey game against the University of Michigan on Saturday, Oct. 15.