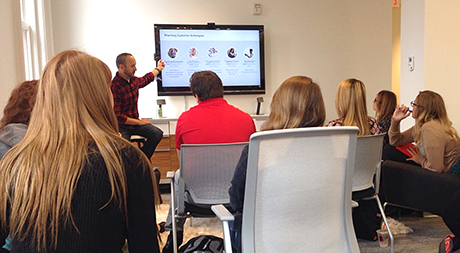 Students in Ferris State University's Graphic Design program are gaining practical experience by attending class sessions at Universal Mind's Grand Rapids office, with industry experts serving as adjunct instructors and presenters.
At the start of the Fall 2016 semester, 14 students began weekly instruction, each Friday afternoon, at the digital technology agency, which is located in the historic Ledyard Building, on Ottawa Ave. in downtown Grand Rapids. Associate professor of Graphic Design Alison Popp said that these sessions complement the senior students' Design Project Center instruction, which also provides experience in a professional studio environment.
"Francisco Inchauste, a user-experience principal, with Universal Mind, has been updating me about their sessions and says they are going well," Popp said. "Everything that the students are seeing put into practice at the agency has been presented to them in lecture from earlier classwork. So they are taking it all in. They also visited ArtPrize venues, to get a first-hand perspective on experience design."

Inchauste is serving as an adjunct, part-time instructor with the university, and said that Universal Mind's creative director Christian Saylor and vice president of user experience Brad Ruiter are also working with these students.
"This is a new experience for many of the students and while they may sit quietly at times in our sessions, they have a great foundation from their campus-based learning," Inchauste said. "We have been explaining our research strategies for the user experience recommendations that are made to our clients, which is great for these students to experience, prior to their DPC workshop activities."
Popp said DPC classwork represents a nine-credit experience in client contact and project management, and this Design Seminar, offered at Universal Mind, gives these students the opportunity to experience professional excellence away from the classroom or studio laboratory.
"Grand Rapids is a most viable market for client involvement," Popp said. "It's a chance for them to see projects being executed and presented to clients, as part of their learning."
"We are examining a variety of starting points the students might experience, such as defining a product feature, assessments to determine customer desires and storyboarding the process for a client, to demonstrate the user experience," Inchauste said. "We will have the students work in small teams, just as they will professionally and the work will be shared equally."
Popp hopes to continue to work with Universal Mind's staff and offer similar instruction for senior Graphic Design students in DSGN 412, Design Professionalism and Entrepreneurship, as that course is incorporated into the curriculum.
"I think Ferris has embarked on an innovative opportunity to pursue excellence, by offering the insights of these professionals through adjunct instruction," Popp said. "I was pleased to tell my peers at the AIGA Design Educators Conference, in Bozeman, Mont. earlier this month about our progress."


PHOTO CAPTION: Ferris State University Graphic Design students are strengthening their academic experience through the University Mind program, based in Grand Rapids, Mich.