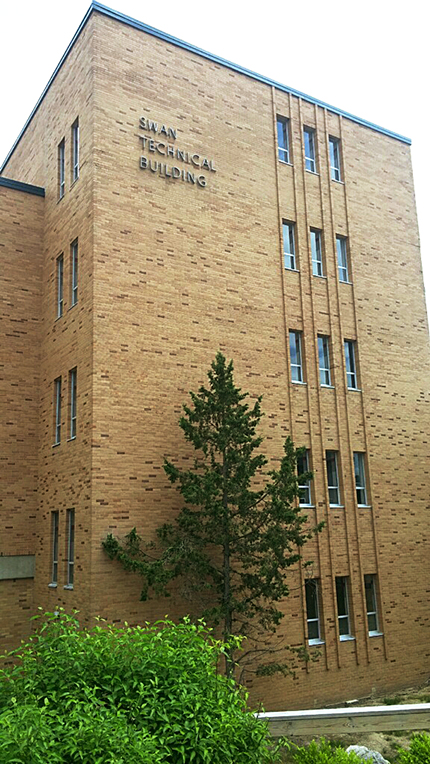 GRAND RAPIDS, Mich. – Ferris State University's Board of Trustees approved 2017-18 dining and housing rates, renovation to the first floor of the Swan Building and more at its regular meeting on Friday, Oct. 7 at the Woodbridge N. Ferris building, in Grand Rapids.
Approximately 10,000 square feet of the Swan Building will be vacated as part of the $30 million Swan Annex new construction and renovation project, which is currently in the bid process. Trustees approved funding to repurpose this space to better serve the Architecture, Facilities Management Energy Systems and Mechanical Engineering Technology programs that currently use academic space in various locations. The administration plans to bid all professional design services and construction related to the renovation and furnishing of the first-floor Swan area at a cost not to exceed $2.5 million.
In other action, trustees approved the university's recommended final 2016-17 general fund operating budget of $211.1 million, which includes $53.1 million of state appropriations.
Trustees also approved an updated and final 2016-17 housing and dining budget of $32.8 million as part of the university's combined $244 million operating budget.
The board approved room and board rates for the 2017-18 academic year. The rates, up 2.5-percent from the 2016-17 figures, reflect increased food, labor and utilities costs. Individual room and board rates vary based on room and meal plan choices.
Trustees approved the administration's recommendation of the university's highest priority state capital outlay project for funding consideration during the 2018 fiscal year. Each university is asked to submit its one top priority project within the context of a five-year capital outlay planning document, as prescribed by the state. The university has identified a new $40 million Virtual Learning Center. The proposed facility would house five key university academic programs: Criminal Justice, Information Systems and Intelligence, Teacher Education, Career and Technical Education, and Digital Media. The Virtual Learning Center would draw the programs together from locations across campus and replace Bishop Hall, an outdated residence facility.
The board also approved 13 appointments and one reappointment to the boards of directors of Ferris-authorized charter school academies.
The trustees are Chair Paul E. Boyer, of Ada; vice chair Erin R. Brown, of East Lansing; secretary Lori Gwizdala, of Bay City; immediate past chair Gary L. Granger, of Byron Center; Alisha M. Baker, of Mount Clemens; Ana L. Ramirez-Saenz, of Rockford; Rupesh K. Srivastava, of Wixom; and Arthur L. Tebo, of Walloon Lake.
The next regular meeting of the Board is Friday, Dec. 16 in Big Rapids. Committee meetings are scheduled to begin at 3 p.m. followed by the full board meeting at 4 p.m. The board's biennial meeting is also expected to take place on Dec. 16.