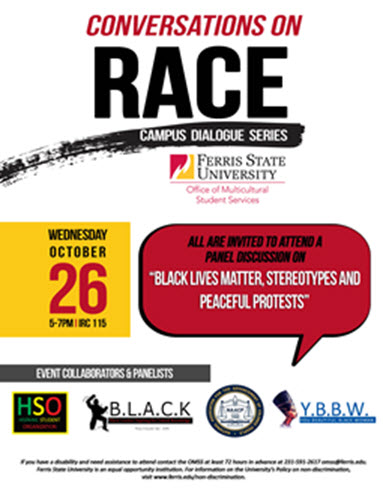 In keeping with Ferris State University's core value of Ethical Community, the Office of Multicultural Student Services is holding its Conversation on Race, for the Fall semester, on Wednesday, Oct. 26, at 5 p.m. The topic for this event is "Black Lives Matter, Stereotypes and Peaceful Protests," with the discussion to be held in Room 115 of the Interdisciplinary Resource Center.
OMSS assistant director Michael Wade said the panelists will include representatives of the Hispanic Student Organization, Black Leaders Aspiring for Critical Knowledge, Ferris' student chapter of the National Association for the Advancement of Colored People and You Beautiful Black Woman.
"We're glad to have the support of leaders from these registered student organizations," Wade said. "Over 300 responses were received in a campus-wide survey, which brought our committee to propose these topics. We hope this will lead to a meaningful discussion as we consider them together."
Wade said the organizing committee co-chairs, Lindsey Hogan, of Warren, Mich., and Paul Hicks, of Battle Creek, Mich., are seniors majoring in Communication. They are making a concerted effort to offer programs of interest to the campus community, while committing to events each semester that have a positive impact.
"We hope to offer a respectful dialogue on these topics," Wade said. "The plan is to consider solutions and move forward, rather than discuss the subject and not take action to affect change."
Those with disabilities who would require assistance to attend this event are encouraged to contact the OMSS at least 72 hours in advance by calling (231) 591-2617.


PHOTO CAPTION: The Ferris State University campus community is invited to take part in a Conversation on Race, "Black Lives Matter, Stereotypes and Peaceful Protests," to be held Wednesday, Oct. 26. The discussion will take place starting at 5 p.m. in IRC Room 115.