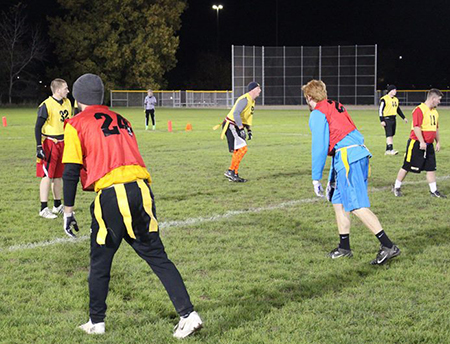 Softball, soccer and flag football seasons are well underway as the fall semester advances at Ferris State University on intramural athletic fields which saw more than $600,000 in upgrades over the summer.
University Recreation director Cindy Horn noted that said this work is part of a $4.9 million project, that includes construction of the South Athletic Fields, in the vicinity of Knollview and South, are seeing artificial surfaces installed, or grading and top soil work, as appropriate. Ferris' senior project manager Joseph Haupt noted that the total project cost included the demolition of the East and South Campus Apartment complexes.
Horn said that the improvements at the Karas Intramural Fields, north of Ferris Drive, were placed underground.
"There's been drainage installed, and an irrigation system put in," Horn said. "These upgrades will allow the fields to be more usable. In the past, when heavy rains came, that facility would take days to dry out, and allow for competition. So far, this season, we have had no closures."
Justin Harden, the university's assistant director of Intramural and Club Sports, said that participants are aware of and excited by these improvements.
"Club teams and UREC participants are glad that their games are getting played," Harden said. "Even with some rainy days this semester, we are offering our sports right on schedule."
Harden is new to University Recreation, this academic year, but is aware of the importance of these upgrades for Ferris students and intramurals organizers.
"My officials have told me there would regularly be one to two week gaps in a season schedule, due to unplayable fields," Harden said. "I can't even imagine what it would be like without the improvements. It's been great."


PHOTO CAPTION: Students are shown here, being active, on the Karas Intramural Fields.