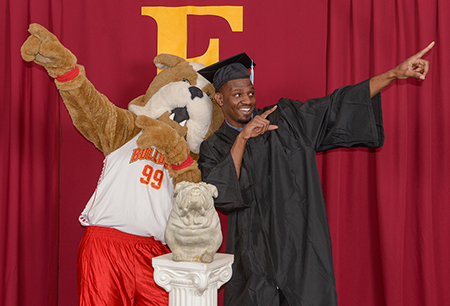 It is not too early for our graduates to get their affairs in order in anticipation of December's commencement. On Thursday, Nov. 3, Ferris State University will host the fall Grad Fair from 11 a.m. until 4 p.m. in University Center.
Kevin Bunce, coordinator of Alumni Relations, sees the Grad Fair as a great opportunity for graduating students take care of a variety of commencement tasks in one area in a short period of time.
"Grad Fair is an important time for our graduating students, and an opportunity for them to get a lot of their affairs in order so that they can focus on a strong finish to the semester and look forward to commencement," Bunce said. "We'll have Ferris Photographic Services on hand, to snap those memorable images in cap and gown, and with friends. We'll also have Brutus the Bulldog with us."
Grad Fair visitors can:
Purchase their cap and gown
Have the opportunity to decorate their cap
Order a class ring
Order graduation announcements
Create a video message for family and friends
Discuss loan repayment options
Be in the running for great door prizes and more
Graduating students are not required to attend Grad Fair to purchase their cap and gown or tickets. Tickets are required, however, for visitors to attend graduation. Children who are 2 years old, and younger, do not need a ticket for admission to graduation. Click e-tickets for more information.
Grad Fair is sponsored by Alumni Relations, the Commencement Office and the bookstore.