PHOTO CAPTION: (Above) Shown, here, is an image of the Applied Technology Center at Grand Rapids Community College. (Below) Ferris State University President David Eisler speaks at a ceremony marking the 25th anniversary of the ATC and partnership between Ferris and GRCC.
GRAND RAPIDS, Mich. – Sometimes a handshake is a just a handshake. And sometimes a simple handshake can become the foundation of a partnership that changes thousands of lives. Such was the case when Ferris State University President J. William Wenrich and Grand Rapids Community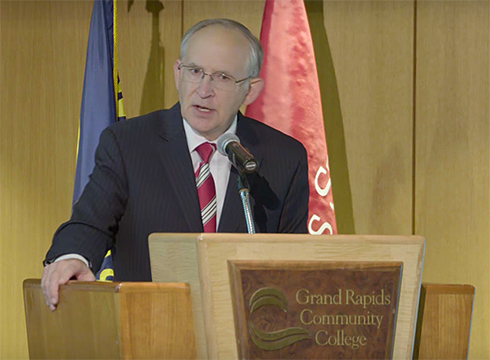 College President Richard Calkins met in the late 1980s to discuss a collaboration between their schools.
More than a quarter-century later, at a reception marking the 25th anniversary of the Applied Technology Center, faculty, staff and alumni of both institutions came together to celebrate that handshake and all that is has made possible.
Completed in 1991, the construction of the ATC cemented the relationship between Ferris and GRCC. One hundred and eight thousand square feet of advanced classrooms, labs and offices at the base of a downtown Grand Rapids hill, the building became the most visible symbol of the innovative partnership. But as Calkins noted, in 2007, "It isn't about the building. It's about what happens inside."
Inside the ATC, students find access to educational opportunities that were previously out of reach. Allowing students to complete their associate degree, at GRCC, and their bachelor's degree, at Ferris, all on a single campus, was a partnership first envisioned by Calkins and Wenrich as a blueprint for a new approach to higher education. Collaborative programs, combining courses at both institutions, reduced costs for students and allowed them to meet financial challenges. Classes offered in the evenings and on weekends opened up new possibilities for students with work and family commitments.
In 1999, Paul Flynn was one such student. Today, he is the vice president of operations at Gentex, a Zeeland, Mich.-based manufacturer.
"There were skills that I just didn't have," Flynn told those gathered at the ATC anniversary reception. When he graduated from high school, his diploma and some technical training were all that he needed to land a solid job. It did not seem like he needed a bachelor's degree at the time. Flynn set aside his education and settled down to start a family. But, when he took a new position as a production group leader at Gentex, Flynn suddenly found himself without the qualifications he needed to continue advancing his career. "I started looking for local resources and stumbled across GRCC," he added.
While taking a few computer programming classes, Flynn realized that Ferris was on the same campus and offered a pathway to the degree he had thought it was too late to complete. He enrolled in Ferris' Manufacturing Engineering Technology program.
Taking classes at night, Flynn continued to work his way up, at Gentex, from group leader to production manager. "Everything I learned here at night, I was able to take to work the next day," he said.
Flynn graduated with his bachelor's degree, in 2006, and then took his education even further, as he earned his MBA, with a concentration in Design Innovation, in 2011. Just a year later, in November of 2012, Flynn was promoted to the executive level at Gentex, taking over his current role as vice president of operations.
Flynn's journey exemplifies the role President Wenrich and President Calkins envisioned their partnership playing in the lives of West Michigan's people.
"Having this resource in Grand Rapids has been priceless for me and my family and the many students that have gone through it," Flynn said. "We work, we have families. We weren't able to complete our degrees at 18 or 22. There's nothing like it in West Michigan or anywhere else that I'm aware of."
Twenty-five years after opening its doors, the ATC and the partnership between Ferris and GRCC are still finding new ways to make an impact.
Programs in emerging fields, such as Molecular Diagnostics and Software Engineering, are giving students the advantage of the latest training. Such programs are also providing local industry with the highly-skilled workforce they need to sustain Grand Rapids' remarkable growth over the last several years.
The close-knit, family-like atmosphere at the ATC has created the perfect environment for the artists and designers in Ferris' Digital Animation and Game Design program to thrive. It has also encouraged a rapidly-growing number of women to join the program and the industry.
This year's launch of a new Cancer Information Management certificate program promises to aid regional healthcare providers in their fight against the disease.
More than 1,800 students have completed their degrees through the Ferris-GRCC partnership during the last five years, alone. Building on such success, Ferris has replicated the partnership at 21 locations, across Michigan, giving more students than ever before access to a university education.

"Today it seems like such a logical, reasonable approach," said David Eisler, current president of Ferris, to attendees of the 25th-anniversary reception, "It's easy to overlook what an extraordinary idea it was."
As the evening neared its end, as alumni chatted with former instructors and early supporters of the ATC, Eisler joined current GRCC President Steven Ender in the signing of a commitment to their continued partnership. Despite the formal document, for those in attendance, it was the handshake shared between these two men that was most symbolic of the power of collaboration.