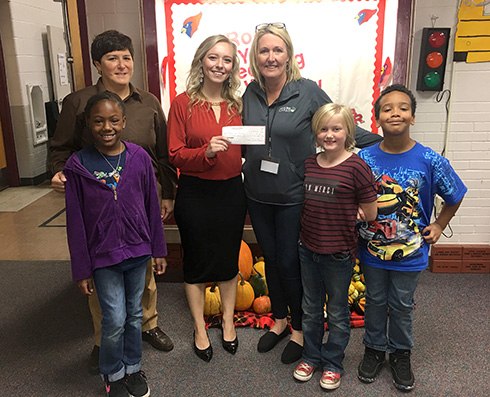 Ferris State University's chapter of the Public Relations Student Society of America donated $200 to Angels of Action, a Big Rapids, Mich.-based non-profit organization that helps underprivileged children in Mecosta County.
Ferris PRSSA's donation was the result of monies raised during the organization's third-annual pizza-tasting fundraiser competition, Za Best of Za Best, on Sept. 29. The donation marked the second year that the chapter has given a portion of the event's proceeds to support Angels of Action.
The donated funds will help the Angels of Action Backpack Blessings project. Backpack Blessings provides students with a backpack filled with sack lunches to eat during weekends. Eighty-six Riverview Elementary students benefit from Backpack Blessings. A donation of $195 supports one child for a year.
In Fall 2015, PRSSA selected AoA to be their philanthropy organization, and their members have been supporting the cause ever since.

Click Ferris State University Public Relations Student Society of America for more information.


PHOTO CAPTION: Coordinator of Za-Best of Za-Best and Vice President of Social Affairs for the Ferris State University chapter of the Public Relations Student Society of America, Lina Lintemuth, is pictured (back row, middle) presenting the $200 donation check to AoA director Joni Thompson (back row, right) alongside Riverview Elementary Principal Renee Kent (back row, left) and students from left to right Princess Lang, Sierra Smith, Mykal Henderson.