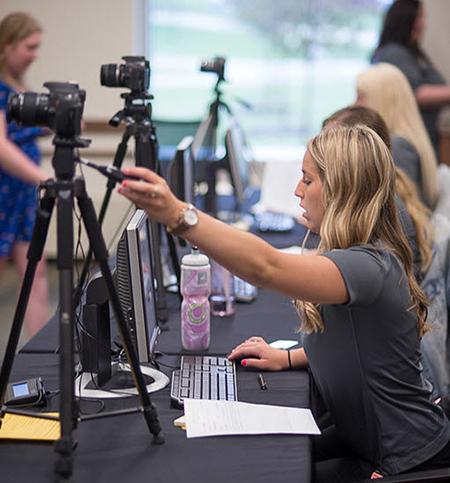 Ferris State University's Student Employment office sees a steady stream of students pursue federal work-study opportunities each year and the level of activity has been acknowledged by the Student Loan Report.
The online publication focused on student loan news, personal finance and education indicated that Ferris' award total is eighth-highest among Michigan's participating public and private colleges and universities, based on 2015 data from Peterson's Financial Aid report. Student Employment and Financial Aid advisor John Randle said that Ferris FWS recipients gain part-time positions, which provide up to $2,600 a year. Four hundred and forty jobs are supported by this funding, with $1,064,800 earned by those students.
"It's a great program, and our students aggressively seek to secure these positions each fall," Randle said. "So many students use this to get their first job experience, while they establish themselves both as students and workers."
Randle said that while most of the jobs place FWS students with departments and operations on the Ferris campus, the government requires that 7 percent of the funding benefits the community and they do not struggle to meet that obligation.
"Federal work-study participants are placed as tutors in the Big Rapids Public Schools, in positions with the city of Big Rapids and at Recycle Mecosta," Randle said. "We have also supported the Women's Information Service and Project Starburst in the past."
The Student Loan Report said Ferris is 157th nationally, and the state of Michigan ranks eighth overall with just over $22.9 million in FWS aid provided to students. Randle said FWS is part of a diverse group of resources intended to support students, as they work toward their goals.
"We're glad that work study can help students limit their loan debt, as they pursue their educational goals," Randle said.


PHOTO CAPTION: Ferris State University offers federal work-study opportunities to students, with the Student Loan Report website reporting the total is eighth-highest among all participating institutions in Michigan.