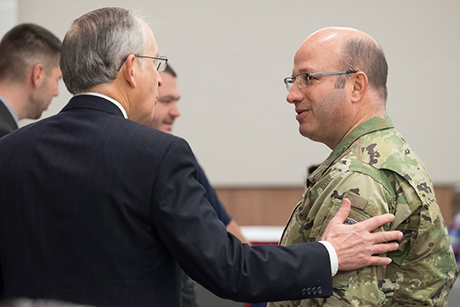 Those Ferris State University students, faculty and staff who are current or past members of the military are invited to the annual Veterans Day breakfast, beginning at 8 a.m. Friday, Nov. 11 in room 203 of the University Center.
Charlotte Tetsworth, associate director of Admissions Processes, is on the event's organizing committee and said as part of the program, there will be a tribute to prisoners of war and those who are missing in action.
"The national anthem will be performed and the country's colors will be presented," Tetsworth said. "We always welcome military veterans from the Big Rapids community to this event. The President's Office is our sponsor, and this is an important occasion for many offices on campus."
Matthew McDaid, the founder of Section 1776, is the featured speaker for the breakfast. The veteran of the Marines from southwest Michigan was deployed for over two years and received the Purple Heart, prior to his honorable discharge from the military, in 2007. A percentage of every Section 1776 product sold is donated to Homes For Our Troops, a nonprofit committed to building specially adapted homes for service members who suffered life-altering injuries. The Kalamazoo-based corporation has given more than $13,000 to HFOT through fundraising events and direct donations, as well as contributing to other military support organizations.
Those who are currently in the military and veterans of the armed forces are encouraged to attend this free event.


PHOTO CAPTION: Ferris State University will host its annual Veterans Day breakfast Friday, Nov. 11, beginning at 8 a.m. in room 203 of the University Center.