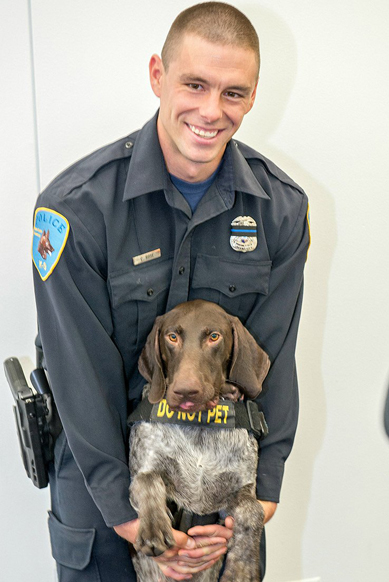 The Ferris State University community extends its deepest condolences to the family, friends and colleagues of Collin Rose, a 2010 graduate of Ferris' Criminal Justice program. Rose, a Wayne State University Police Department K-9 officer, died this evening (Wednesday, Nov. 23) after being shot in the line of duty on Tuesday, Nov. 22.
A 29-year-old native of Richland, Mich., Rose earned his Bachelor of Science in Criminal Justice from Ferris and completed training with Ferris' Law Enforcement Academy. Cecil Queen, coordinator of the academy and a Criminal Justice professor, had Rose in several classes and regarded him as "an outstanding recruit."
"This incident was difficult news for the faculty who were acquainted with Collin," Queen said. "He won the leadership award during his time in our academy. We understand he was a valued officer in the Wayne State police force."
"This is a very sad day for everyone in the Ferris State community," said David Eisler, president of Ferris State University. "Officer Rose was an excellent student, a leader among his peers and a consummate professional dedicated to protecting and serving. Our thoughts and prayers are with his family during this very difficult time."
Rose began his law enforcement career in his hometown with the Richland Village Police Department and accepted a position with the Wayne State University Police Department approximately five years ago. Wayne State University President M. Roy Wilson said Rose is their first university police officer to die in the line of duty and the first officer wounded since the early 1980s.
On the evening of Nov. 22, Rose was responding to a complaint in the city of Detroit, near the Wayne State campus, when several shots were heard in the vicinity of Martin Luther King, Jr. Blvd. and Trumbull. A 31-year-old man, with a history of being combative with police officers, was taken into custody as a person of interest in connection to the shooting.
Rose was completing a Master of Science in Administration from Wayne State University and was engaged to be married in 2017.


PHOTO CAPTION: Officer Collin Rose (Photo credit: Wayne State University)